The online education business is anticipated to expand to $350 billion by 2025 as per Statista forecasts, with mobile learning accounting for the vast bulk of that growth, either through apps that are solely mobile or those that provide mobile with web versions.
Ever since the pandemic, online learning has become the new norm and the internet market for educational platforms and applications is on an upward trajectory.
This article will take you on a journey through the e-learning market, covering all facets as well as advice, features, and technology advancements to help you succeed with your next eLearning app development.
What is an eLearning app, and what benefits does it offer?
E-learning apps, unlike traditional learning systems, are kept on a web server and may be accessed from anywhere at any time.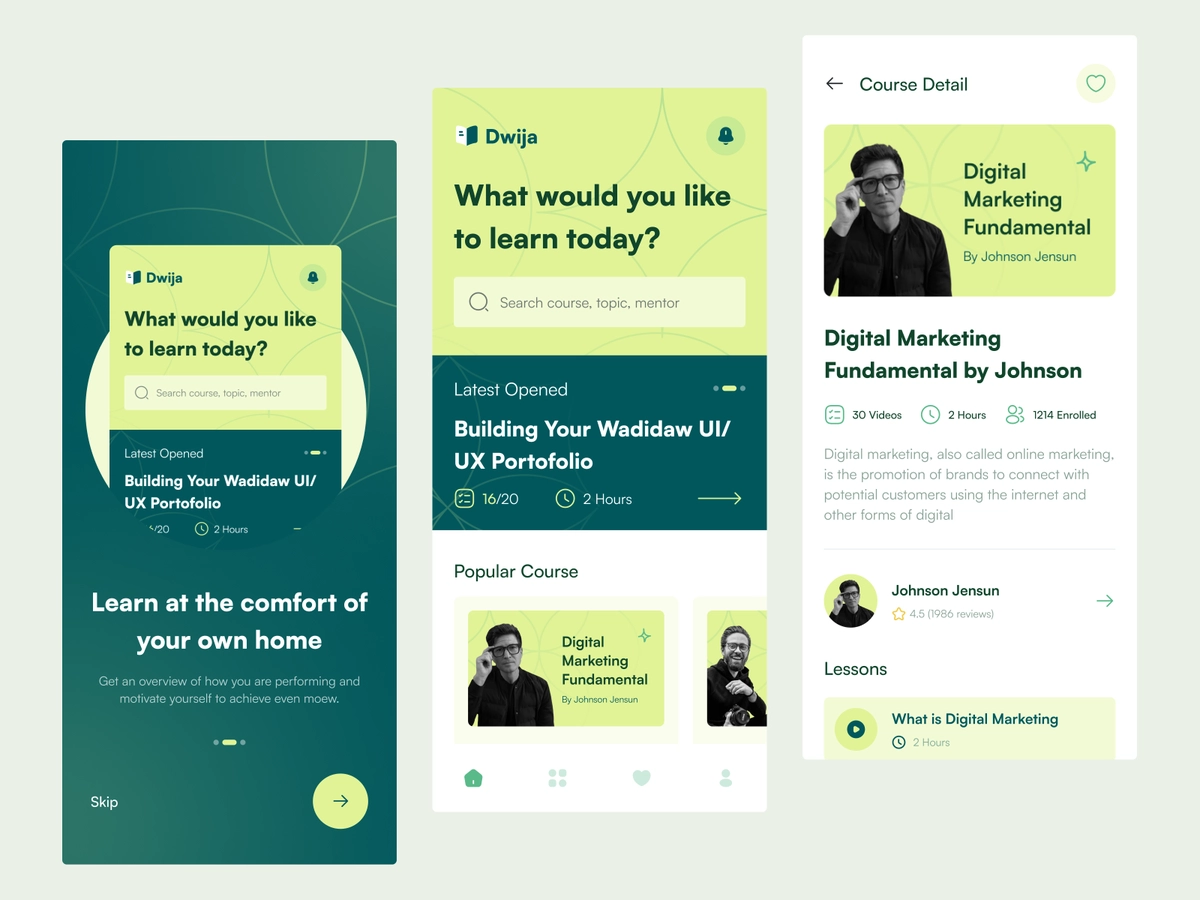 Students may use these applications to engage in learning activities such as reading, taking tests, participating in interactive activities, submitting comments, and presenting a seminar in a virtual environment.
An eLearning web app exposes students to a variety of information, such as instructive videos, books, pdf, games, podcasts, and so on. 
When compared to traditional learning systems, these eLearning applications provide several advantages. Among the most prominent advantages are:
A massive library of instructional resources.
At any moment and from any location.
Students benefit from a fantastic learning experience.
Is adaptable and offers learning opportunities based on the learner.
Study resources in the form of videos, images, or pdfs are sent quickly.
What trends and aspects should be considered while creating educational apps?
The global eLearning companies grew 200% between 2017 and 2020 and are predicted to grow at an exponential rate.
According to research done by Gallup, a Washington-based business, 71% of individuals believe that eLearning makes concepts more explicit and comprehensible than traditional classroom education.
Thus there are several reasonable reasons for Elearning to be increased as the new way of education.
1. Certification and professional material should be prioritized
Users desire to know that they will have proof of completion after completing courses. Certificates are available from the most well-known digital learning organizations, including Lynda LinkedIn Training, Oxford Home Study, and Google Digital Garage.
As a result, if you want your bespoke e-learning solutions to appear credible, make sure you offer authentic certificates. The sole exception may be educational applications for children. 
2. A plethora of videos and micro-training
Students use instructional applications for their flexibility and improvement of the learning process. As a result, while creating your next solution, you should prioritize short instructive films above verbose words.
Alternatively, mix movies and text. Furthermore, it is critical to divide the curriculum into short classes followed by assessments. This method is the most efficient and easy way to teach something remotely.
3. UX/UI that is intuitive and simple to utilize
A good design and easy navigation are essential for developing an app that motivates users to go on to the next level of learning. You should be able to improve the user experience with the help of a UX/UI professional.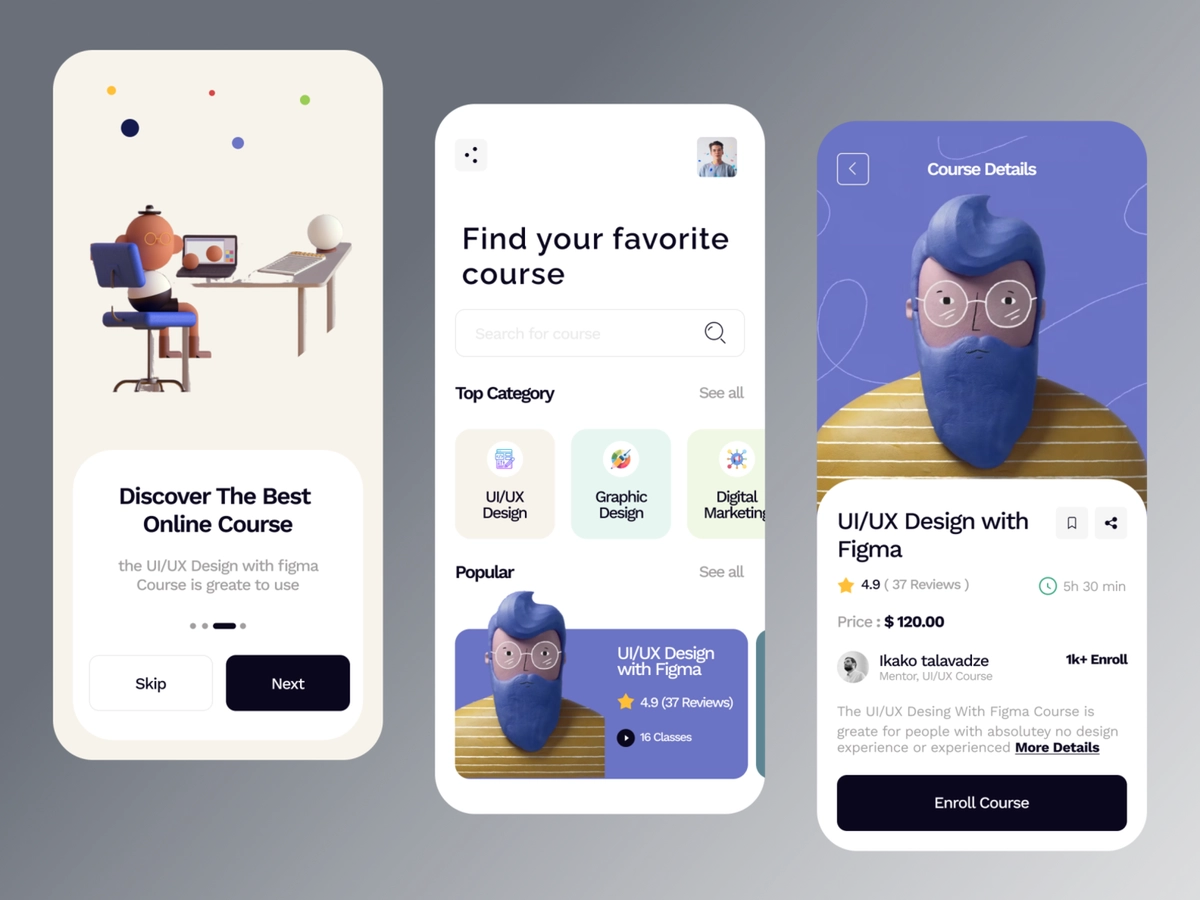 4. Gamification, virtual reality, and augmented reality (AR) in  educational technology
Virtual and augmented reality are becoming more popular in online learning solutions. They can help your app stand out from the pack and attract tech-savvy consumers.
Why should you invest in a mobile e-learning app?
As previously said, the eLearning app industry is thriving; consequently, investing in establishing an eLearning mobile app is prudent.
Developers are putting a  great emphasis on the usage of virtual reality as VR assists learners in swiftly and successfully comprehending complicated concepts.
Furthermore, tailored learning will enable everyone to learn and grow more in their areas of interest, which will improve student performance.
The eLearning mobile applications will still provide instructor-led training (ILT), but the emphasis will be on self-directed learning.
As a result, we can readily predict that online education will heavily rely on eLearning programmes, and now is the greatest moment to invest in one.
Top Features of Custom eLearning Mobile apps
While the functionality varies based on the type of educational application, several aspects are common to all e-learning systems. Consider these factors when developing your next eLearning app.
Login/Signup
Limit access to educational applications to protect personal information such as learning progress, contact information, payment information, and so on.
Profile
Profile of the user Allow users to access tasks, examine completed courses, and monitor their learning successes from a separate profile.
Search
Filters such as name, subject, duration, and so on can help visitors discover the material they need fast.
Menu
Simplify in-app navigation so that users may go to a certain app component with only a few clicks.
Materials for learning
As needed, include courses, games, exercises, and/or assessments.
Monetization
Consider the best strategy to benefit from the deployed solution (this is why you created it in the first place). Ads, in-app purchases, white labeling, and paid subscriptions are just a few examples.
Payments
Check that your app has secure payment functionality if it permits financial transactions.
Daily Reports
You may get a thorough view of the students' performance, dedication, and completion of the course through the reports. To analyze their abilities and get ready for further examinations based on those abilities, the eLearning software must contain a scoring and passing capability.
Admin Panel
The most essential component that an eLearning app should have among all these features is an admin panel. The content should be manageable by the administrators, and users should be allowed to add and delete courses as needed.
Conclusion
In order to create a comprehensive application for e-learning, the right combination of features and technology is needed.
This blog covers all the important aspects that you should consider before developing an e-learning app.
Are you an educator running a university, a college, or a school and are looking to build an e-learning app?
Connect with ScrumDigital, a prominent developer of mobile applications and websites. Build a robust E-learning app with Scrum that has industry standards and runs flawlessly 24/7.