Mobile Application Development is an empire imparted with unbelievable innovations and learnings. Mobile Applications have changed our living in many, unlikely ways which we couldn't dream up before, resulting in a world where there is an application for all that we can think of in different sectors like digital payments, online shopping, online banking, health care, and much more.
With the advent of technology, a massive number of healthcare apps have been designed and developed enabling the healthcare industry to expand day by day. The variety of technical adoptions adopted by the industry have been very successful. Since more users are embracing the use of mobile apps.
The contribution of Mobile Apps in the sectors of Healthcare has transformed the way humans monitor and see their daily fitness and health. Mobile health care is growing day by day.
Hospitals have begun to indulge in mHealth application development services to provide patients with the latest, convenient, and easiest ways to share information related to health effectively, efficiently, and engage patients better. 
These apps are made to focus on improving the health of human beings. With these amazing mobile apps, users can do many things like scheduling doctor's appointments, remote assistance and diagnosis, online prescriptions, patient monitoring, and so on.
Why Mobile Apps are Getting Popular in Healthcare?


In today's fast-moving world where people hardly have any time for doing their regular health check-ups and maintaining a healthy lifestyle, these apps have a very crucial role to play. People need something easy, convenient, and fast to remain updated about their health status. People have started performing and monitoring their daily activities using these mobile devices and apps available.
Also Read: Your Key To Success: IoT Development in Healthcare
Doctors and Patients can build a good connection with the help of mHealth apps. It helps doctors to understand the problems easily and better by the real-time data through the sheets of data of their health status and understanding it. From mHealth patients can take follow-ups, book an appointment, maintain records, connect with doctors directly, and can do much more on a daily basis. 
Impact of Healthcare Apps in HealthCare Industry

1. Health Risk Predictions
Today doctors can use the patient's reports to anticipate the health risk of an individual. Smart devices play a vital role in keeping track of their patient's data. This helps in developing machine algorithms to predict health risks in advance and according to the health, risk precautions can be taken.
2. Better Communication and Appointments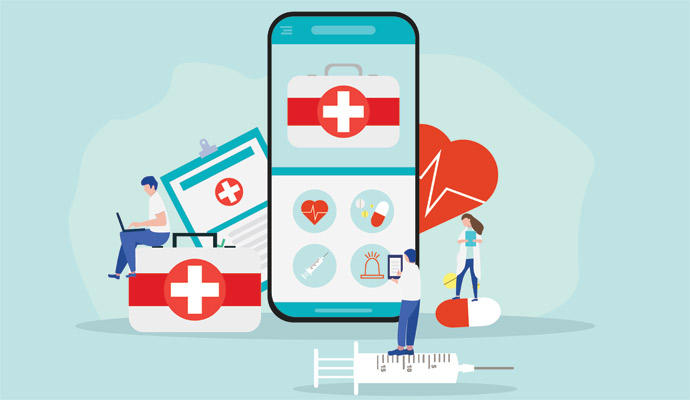 The Health Care industry has complex and sensitive data. As the medical mobile app development is increasing day by day doctors and patients can take good advantage of ever-growing mobile platforms. So, it is very important to have stable and secure communication between doctors and patients which is only possible through mobile apps. Healthcare mobile apps will definitely improve patients' communication with doctors even they are not physically available. This helps to convey valuable information about the patient to the doctor properly. 
Also Read: How Mobile Apps are Transforming the Healthcare Industry?
3. Voice Commands

The crucial problems while using mobile apps are faced by elderly patients. As they don't know much about technology. But nowadays smart devices that understand voice commands with the help of Artificial Intelligence are easily available. 
4. Managing Health Records

Managing patient health records is a very important step in the health care industry. Every patient can have their heal records in mobile apps. These records will help to fetch the patient information with just one click which will save time for doctors as they are able to assist them overcall and proper time as the apps are reducing physical contact between doctors and patients.
5. Remote Monitoring and Virtual Health Care
When we visit clinics or hospitals caregivers and nurses help in the assistance to the doctors and patients both in a similar way these virtual nurses will also help. The use of AI technology and mobile health care apps it helps nurses to keep analyze the health of the patients even from geolocation and also send alert alarms at the time to emergency to both patient and doctors at the same time. As the apps are sending alerts this will lower the delay in medication due to the communication gap.
6. Virtual Consultation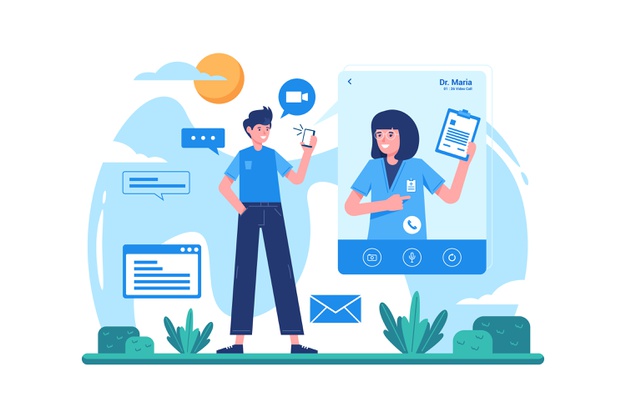 Today everyone wants to save time and virtual consultation helps you to provide consultation through video conferencing. Patients can connect to doctors using smartphones or any other devices
Why Us?

Scrum Digital has an experienced team of developers, designers, and testers who can definitely help you achieve your requirements. Our team works as an IT partner with our clients. We ensure to gives 100% to make your user experience better with the best services. This allows us to be responsive, flexible, and client-focused.
Currently, we are working for clients in the US such as  SiteStaff LLC and Seniors Blue Book. We are helping both of them to modernize their old products to give them a fresher look & technological enhancement.
Also Read: Innovations That Will Change Healthcare In 2022
Conclusion
As technology is increasing day by day, there is no doubt that technology is changing our daily life. The advance of technology is also changing the way we heal. The ways and the amazing benefits of mobile devices in the healthcare industry are discussed for you above properly. As these, mHealth apps are very useful for doctors and patients.
There is only one risk that may affect it. Using apps unproperly can lead to unsafe practices violations of patient's privacy. The providers of Health Care services should execute a strategy. It will help them to keep the standard service while keeping patients secure and safe.