The popularity of mobile apps makes it unsurprising that every digital business is investing in them. However, when we talk about mobile app development, the most common question that comes up is – What is the cost of mobile app development?
There is an app for everything today and with the advancements in technology, more and more apps are being created to make our lives easier. Whether it's tracking our workouts, ordering food, or finding a parking spot, apps are a necessity for us today!
A Statista report estimates that Google Play Store powers over 3.5 million mobile apps worldwide as of 2022, while Apple App Store stands at 2.2 million.
Furthermore, Statista Digital Market Outlook predicts that by 2025, the mobile app market revenue will reach around $613 billion across various segments.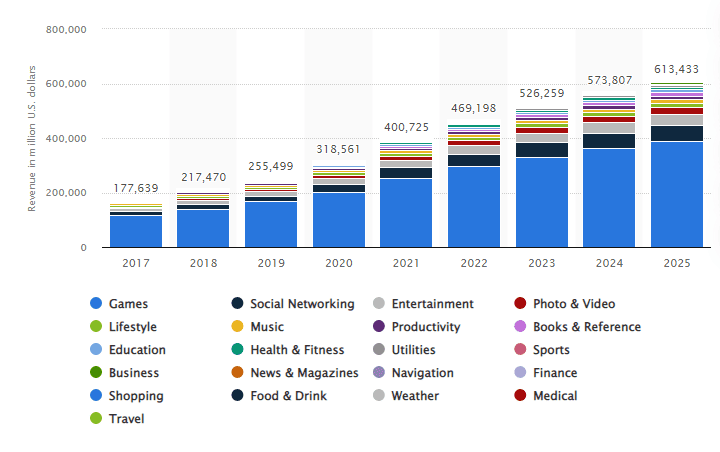 This guide provides detailed insights into the associated factors that influence app development costs, as well as different mobile app development costs per feature and region.
An Overview of the Average Cost of Developing Mobile Apps
Generally, the cost to create a mobile app ranges from $25,000 to $150,000, and can exceed $300,000 when the app is a customized complex one.
Because the cost of custom mobile app development depends on many factors, including the app's complexity, features, and functionalities, as well as the app's development approach, we used tentative estimates.
However, don't worry, we have analyzed all the important factors contributing to the cost of mobile app development. Based on these factors, you can use the standard calculation formula to estimate the cost of building an app.
The Formula for Average Cost to Develop an App
If you want to get an idea about how much it costs to develop an app, you can use this simple formula to figure it out.

An app's price is determined by multiplying the number of hours it takes for every single development process by the billable hours of resources.
Developing Native and Custom Applications
The cost of native and custom mobile app development ranges from $10k to $100k or more. Based on the categories of native app development, we have broken down the cost.
Native Apps

A native app is a smartphone application written in a language that is specific to the platform, such as Android or iOS.

Benefits of Native Apps

Fast and Reliable Apps

Highly Secure with Data

Best UX Design

Full-fledged Functionality

Complete Integration

Examples

Cost

$10,000 to $100,000 (Approx)
Developing Hybrid Applications
Developing a hybrid application can cost between $10000 and $70000, depending on the complexity of the application.
Hybrid Apps

A hybrid app combines the features of a native app and a web application.

Benefits of Hybrid Apps

Multiple operating systems and devices are easily supported

Ease of use and low development cost

3rd party integration is simple

Examples

Cost

$10,000 to $70,000 (Approx)
Hybrid apps run on multiple operating systems, including iOS, Android, and Windows. There are some components of these apps that are developed as native components and some components that are developed as hybrid components.
Hybrid apps may be more affordable and easier to develop, but hybrid apps are not convenient to customize. Besides that, hybrid or cross-platform applications tend to have a slower release cycle than native applications.
What is the Cost of Android App Development?
Android app development costs are affected by the features and functionality of the app. Here is a table containing the kind of app, processing time, and cost of app development for your convenience.

The development phase includes building features, backend infrastructure, and user interface/UX components as per your needs. Moreover, post-deployment services can also be offered, such as promotion and maintenance.
Listed below are Android app development rates by region.

Note: Depending on the company and developer, the above-mentioned hourly rate may vary. Team size and structure may also vary depending on the complexity of the project.
For every app project, a project manager is a prerequisite, regardless of how many Android developers and designers are involved.
The first thing we do when we begin working together is to make a rough estimate based on your requirements and the description of your ideas.
After that, we estimate the number of hours it will take to develop the application. Upon receiving your approval, we proceed to detailed estimation, creating the app logic and wireframes, and creating detailed project documentation.
How Much Does It Cost To Make An iPhone App?
According to estimates, the average cost of developing an iPhone app ranges from $10,000 to $1,000,000 on average.
Additionally, the size of a project determines the price of iPhone app development as long as the rates for programming services and the time are bundled together. Size refers to the complexity of functionality and business logic. Additionally, development can include
Animation-based designs

Designing prototypes

Research-based custom solutions

Unexpected changes, and outcomes
Listed below are the approximate costs associated with developing an iOS app based on its size.

You have seen the cost of developing iPhone apps by size. Below is a breakdown of iOS development costs by region.


Factors Affecting Mobile App Development Cost
Different factors can affect the final cost of your project. Here are a few of them listed below.

1. Features
The cost of the project essentially depends on the features you would like to incorporate into your mobile app, depending on how complex they are.
Simple features, like profile completion and editing, search engine, messaging, push notifications, in-app purchases, and admin panel, it may cost you approximately $320 – $1680 for an app developer working at a rate of $40 per hour.
On the other hand, complicated features like maps, streaming, calls, and payments might cost you $3000 – $14,600.
2. User Interface
For low-cost mobile app development, you can use standard elements for creating the user interface because creating unique designs can be costly. Thus, as you keep on adding complexity to your app, you will need to increase your budget as well.
You can add customized elements to your app to enhance the look of the app and to synchronize with your brand but each piece will cost you $500-2000.
3. Platform
You need to choose your platform; Android or iOS because their prices, programming languages, and tools differ from each other. If you want your app to support the 2 platforms, development costs will go up.
4. Backend Development
The backend development depends on how detailed the app analytics are. If you go for detailed parameters and a customized admin panel, the development costs will increase.
5. App Developers
Last but not least, an app development cost mainly depends on the developing time and location. If they are located in the USA, they are going to charge high prices as compared to the developers living in Asian countries.
It's also not necessary that the most expensive thing is the best. So, select the app development team wisely, keeping your budget in view.
6. Maintenance Cost
App maintenance cost is somewhere near 15-20 % of the building cost which you have to spend each year. In-app maintenance, bugs are removed, new features are added, updating to the new operating system, etc. and this process never stops because you have to update your app after some time.
Conclusion
We hope it was helpful and informative. Mobile app development is a complex process, with many moving parts. With so many details to manage, it's easy for costs to add up quickly.
If you are interested in mobile app development, be sure to contact Scrum Digital. We are a leading mobile app development company with 3+ years of experience in creating custom apps for businesses of all sizes.
We would be happy to discuss your project and provide you with a free quote. You can find more information on our website or contact us directly. Thanks for reading!