Several breakthrough discoveries and innovations are expected to strengthen the healthcare industry in the year 2022. Netflix's medical documentaries might turn into reality this year.
We will discuss the key medical technology trends and transformations in the foreseeable future in this article. This article will also discuss how digital transformation services have helped to improve the quality, affordability, and predictability of healthcare services.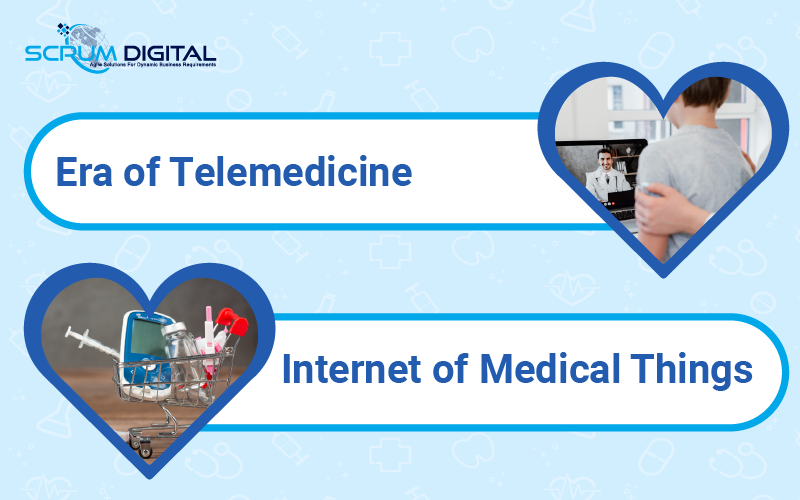 1. Era of Telemedicine
Governments, healthcare systems, and patients adopted telemedicine post the first wave of the pandemic. In response to the pandemic, governments issued guidelines for telemedicine to decongest hospitals. As medical practitioners reach their patients via telecommunication, telemedicine reduces the load on facilities and reduces the need for personal protective equipment (PPE). HealthTech startups are developing telehealth services that increase social distancing to help mitigate public health issues. The concept of telemedicine is likely to get more advanced and more medical treatments that used to happen only at the hospitals could be performed at home.
For example, Teledoc is the first and largest provider of telehealth medical consults in the United States, providing members with access to quality medical care 24×7 through phone and video consults. One of the first companies in the United States to offer telehealth services was Teledoc. It has a high reputation among physicians and patients. They mainly use applications of AI in data analysis and collaboration, remote patient monitoring, and intelligent diagnosis and support. But today, the newest medical information systems are developed and distributed by Practo Technologies Private Limited. They use a software platform that offers automated appointment scheduling, billing, medical records storage, at-home testing, and billing solutions. 
2. Internet of Medical Things
Healthcare has been revolutionized by the IoMT i.e. Internet of Medical Things. Many healthcare companies take the help of IoT application development for the smooth processing of medicines.
A healthcare facility can use it to monitor its technology and receive performance alerts when an error occurs. It is possible to identify employees, patients, devices, and other resources in critical environments by using IoMT applications. As large companies like Microsoft offer enterprise-level IoT packages, IoT is poised to become an integral part of healthcare infrastructure.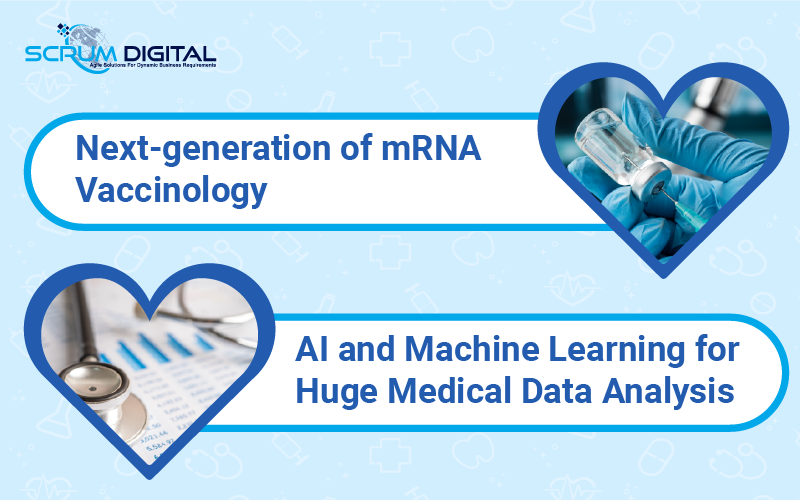 3. Next-Generation of mRNA Vaccinology
With advances in the generation, purification, and delivery of RNA, RNA therapies have been developed for a wide range of purposes. It involves cancer treatment and Zika virus treatment. RNA therapies can be readily produced and are relatively inexpensive. The pandemic made us all realize the need for rapid development of a vaccine that could be easily deployed worldwide. Thanks to previous research on mRNA technology, a COVID-19 vaccine was quickly developed, and distributed all over the globe. Technology like this has the potential to eliminate some of healthcare's most challenging diseases rapidly and efficiently.
4. AI and Machine Learning for Huge Medical Data Analysis
AI can be used to integrate and calculate a large amount of data within a short time. One of the major uses of AI in healthcare is its ability to help make sense of the large amount of messy, unstructured data that can be simply captured and analyzed. X-rays, CT, and MRI scans are forms of medical image data, as is a wide range of other sources, such as information on the spread of communicable diseases, vaccination distributions, and even handwritten doctor's notes.
Artificial intelligence is often used in the medical field to augment and upskill human workers. As an example, the surgeons who work with augmented reality, employ cameras that use computer vision to recognize what they are seeing and relay that information to the augmented reality system. Such digital transformation serviceshelp surgeons and medical practitioners to visualize the exact problem within the system. 
Automation of early contact with patients is another key use case, freeing up clinicians' time. Similarly, most AI chatbots gather information on symptoms and direct inquiries to the right healthcare providers.
For example, sepsis can be detected early with artificial intelligence. Globally, it contributes to hospitalizations and deaths. The mortality rate of septic shock is very high, so it is crucial to diagnose sepsis early. However, early symptoms are nonspecific, which makes diagnosis difficult. Artificial intelligence (AI) has emerged as a new tool for detecting sepsis more rapidly. By monitoring physicians' electronic medical records as the input information, the tool detects several key sepsis risk factors quickly.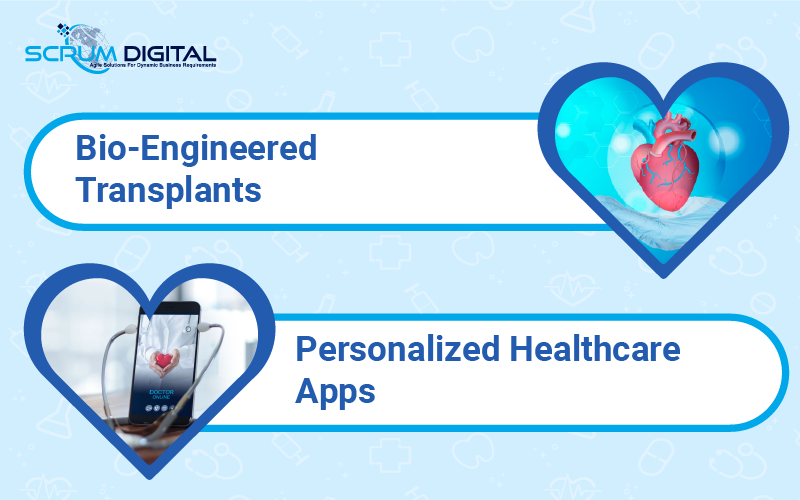 5. Bio-engineered transplants
Organ transplantation will take a new form with the development of tissues or whole organs through bioengineering and 3D printing of patients' own cells. The trend towards a patient-centered approach in healthcare is sure to continue.
6. Personalized healthcare apps
Most HealthTech startups take the help of a mobile app development company to kick start their businesses. It is because of the rising demand for such apps and health awareness through social media. 
Individuals can now add their personal medical info to the app and keep a record of appointments with the doctor. This will take them a step ahead of where they can track the treatments they receive. On the other hand, medical professionals can use these personalized healthcare apps to track nutrition, fitness, medications, and emotional & mental health. The information in this system helps doctors keep track of patients' records and improve their treatment.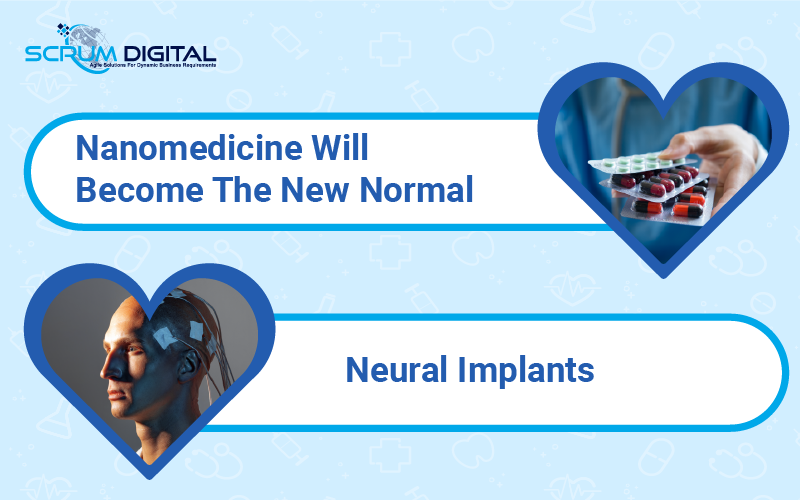 7. Nanomedicine Will Become The New Normal
You must have heard of nanotechnology in the last chapter of your science textbook. This year the concept will turn into reality. Nanotechnology is a technology that works at the molecular, and atomic levels. The nanomedicine trend for the year 2022 can be used for imaging, detection, diagnosis, and treatment using medical innovations.
The goal of nanomedicine research is to target individual cells, and research is set to begin in 2021. Among the leaders in cancer nanomedicine, many companies have recently conducted an initial study on the delivery of drugs to tumors using gold nanoparticles. 
8. Neural Implants
In 2022, we are likely to see brain-computer implants that are efficient and cost-effective. We can expect to see Neuralink's chips implanted in human brains by 2022 at least. The number of companies, organizations, and startups developing neural implants is increasing, including the possibility of restoring certain functional independence to patients with various types of paralysis or blindness. 
The era of innovation has already begun in healthcare. However, all the above innovations are possible only with digital transformation services. Therefore, any healthcare advancement project must find a suitable partner for its next digital transformation.