Advanced technologies such as big data & analytics, AI, machine learning, social media, and IoT, among other things, have accelerated digital transformation in the past five years. Through digital transformation, companies can create more robust value than just cost savings. Because of the surmounting customer data and evolving customer needs, businesses have had a difficult time lowering their costs. But this is where digital transformation services help them to save dollars and improve the efficacy of businesses.
Globally, the pandemic has made digitalization and automation of business processes even more vital for businesses. Businesses today can implement digital transformation in all three vital areas: operations, management, and strategy.
This adoption of digital transformation services is leading to a shift toward business progress. By implementing digital transformation strategies, companies see great opportunities and big numbers. Here are just a few industries that have experienced major transformations:
Education
Healthcare
Manufacture
Retails
FinTech
Business organizations are relying on digital transformation to increase their growth and adapt to new market trends. The technology can help you cut unnecessary expenses and keep the budget in check. As a whole, digital transformation and the convergence of digital strategies cover operational, strategic, and management aspects, which we will discuss further.
Digital Transformation in Vital Areas of Businesses
Digital technology tools are being used in the operational sector to transform processes, digitize documents, or change the way data is processed by means of the cloud, as well as to optimize processes in general. This helps businesses to keep the cost at bay while keeping the data safe.
A notable change has occurred in the strategic sector as a result of focusing more on consumer needs. This has enabled more assertive decisions to be made and value solutions to be created. Taking advantage of the commercial and productive opportunities created by digital adaptation, the management aspect summarizes the evolution of the company's business model. The strategic sector has proved to be lucky in terms of saving costs. When planning the solution, digital transformation services offer a lot of execution plans that can be automated.
Let us discuss the digital transformation in important sectors and how they managed to reduce their costs: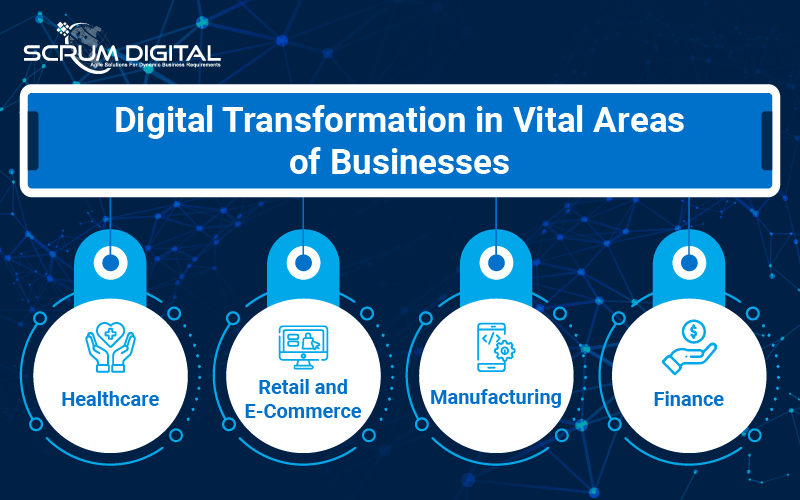 1. Implementing Digital Transformation in Healthcare
One of the most prominent examples of digital transformation success has been the era of healthcare digitization. A combination of AI and robotics has helped improve patient monitoring, lab automation, neurosurgery, and medical device packaging in the post-covid world. Patients and doctors can also communicate digitally through online healthcare applications. This has helped to eliminate a lot of barriers and subsequently the cost.
2. Retail Sector and e-Commerce
Several ways have been experimented with by retailers to meet new shopper expectations, bridge the digital and physical shopping experience, and handle back-office processes better, among other things. However, the best results have been observed via digital transformation services.
In today's world, no business would survive without having an e-Commerce store or at least a website.
Even in the physical stores, several chains try to see how consumers interact with specific technologies and services before they are rolled out to more stores. In many ways, the retail industry is among the industries most affected by digital business transformation since they are shifting towards more service-oriented models and are automating many traditional functions, processes, and operations.
3. Digital Transformation in Manufacturing
Digital transformation has a staggering impact on businesses, suppliers, customers, and other third parties. There are many ways in which technology has helped this sector regardless of whether it's selling precision machinery or construction materials online.
With the help of mobile application development or building their online business on google maps, the sector has saved a lot of marketing money since online marketing has benefited them the most. From product development to supply chain management, the manufacturing sector can improve operational efficiencies using digital technologies.
4. Finance: The Rise in FinTech
A distributed ledger technology solution makes transactions and data more secure and reliable. As the world has witnessed, during the pandemic the investors saved a bunch of dollars by using blockchain. Today, you can generate digital contracts in real-time, perform faster operations, and manage a central database more efficiently. Blockchain improves F&A processes through better integration and governance.
Similarly, the adoption of cloud-based ERP, automation, and cognitive innovation will continue apace in the years to come, creating the possibility of simplifying processes and making people more productive. This trend will only be accelerated with the addition of blockchain. The ability of humans to add value will be unleashed as this transition picks up speed.
Due to digital onboarding and online KYC, a lot of financial institutions have been successful in acquiring more customers.
Major Digital Transformations That Helped Businesses to Save Costs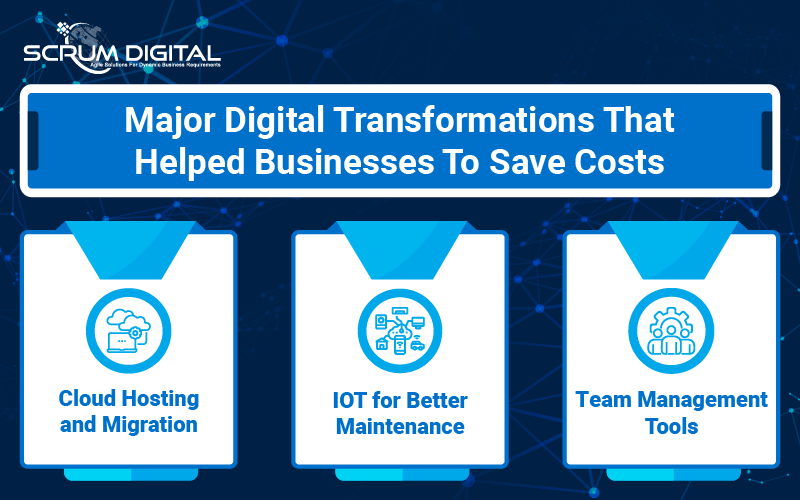 1. Cloud Hosting and Migration
The cloud will store more than 50 percent of a company's or public's data in the future. The shift to cloud computing is a clear indicator that companies are becoming more agile in their business practices. Through cloud hosting, the entire business is centralized from one point of contact, allowing for seamless access to every piece of information and saving time and money.
2. IoT for Better Maintenance
Technologies based on the Internet of Things reduce costs by prioritizing and optimizing inventory, revenue systems, manufacturing, operational processes, and energy management. The Internet of Things (IoT) is a source of predictive maintenance, and big data, thus decreasing development costs and interruptions.
3. Team Management Tools
Startups and enterprises are using applications like ClickUp and Asana to manage tasks and projects. With them, the entire process can be tracked at once. A comprehensive set of management tools and software will also help you manage costs and resources effectively.
Key Takeaway
IT support is needed when it comes to finding new growth opportunities in strategic innovation. Every corporation needs digital and analytics tools to minimize the risk of new ventures. The right data provided to management at the right time can greatly improve decision-making processes and thus reduce costs. It not only saves time and money but also protects your business against the costs of making a bad investment decision.
There is no doubt that digitalization accelerates the already existing gap between those who are digital leaders and those who are not. Re-engineering your digital infrastructure to align it with your corporate strategy can provide a competitive advantage and reduce costs. But it won't happen without the right digital transformation service provider.
Get customized technological insights and consulting for your business with Scrum Digital. Let us guide you through your digital transformation. Get in touch!