If you're like the average smartphone user, you'll probably replace yours every couple of years. Isn't it surprising how quickly they can go out of date? Unfortunately, the same is true for most websites.
There are numerous signs that your website requires a new outlook. We are not just talking about how your website looks, although that is an obvious indication. The performance and functionality of your website are equally important.
If you recognize any of the 10 signs, it's time to talk to a Mobile App Development Company or a web application development services company and get their UX/UI design services to revamp your website UX.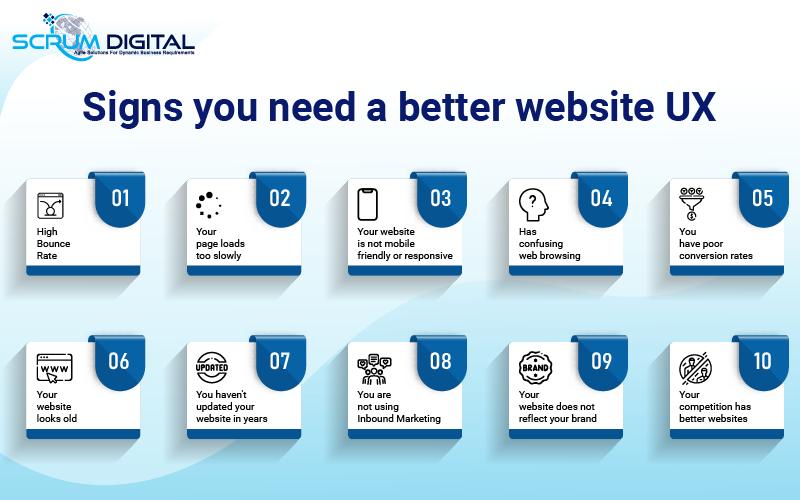 1. High Bounce Rate
As per Google Analytics' definition, "bounce rate" is the percentage of visitors who use only one page of your site. In simple words, it's the percentage of people who come to your site to only visit the first page and do not bother scrolling past the information. Moreover, if your site's bounce rate is consistently above 70-90% across your entire site, it's time to update your website UX.
2. Your page loads too slowly
One of the biggest problems with older websites is how slow their pages load. If your target customers are mostly young people, they are used to having what they want when they want it. That means they don't stick around waiting for those graphics to load or worse yet, interrupt the reader when those images finally show up and rearrange their text. According to web application development companies, excessive load times contribute to higher bounce rates. Additionally, Google prioritizes loading speed when determining a website's search ranking. This is important because 94% of organic search traffic comes from Google.
3. Your website is not mobile-friendly or responsive
Mobile website traffic accounts for more than half of the world's web visits. If your website is not mobile-friendly, you are missing out on all these potential visitors. Even if you consider your website to be mobile-friendly because it is responsive across multiple devices, that's not enough for some businesses these days. Mobile-first websites load faster and search engines rank your search results from a mobile, not a desktop perspective. UX/UI design services provider suggests businesses that in case you are starting from scratch, consider Mobile-first web design, as user interaction on these devices will only increase in the future.
4. Has confusing web browsing
Some people believe that they need to give users as many options as possible, but this will overwhelm the visitors and result in a negative user experience. This problem is not uncommon with websites that have been improved over the years. When potential customers visit your website, they must have an intuitive understanding of where to click, how to get information about your products or services, and how to smoothly and swiftly navigate throughout the website for information.
5. You have poor conversion rates
If you're not getting enough leads or conversions from your website, it's probably time to upgrade. All the other reasons included in this list can contribute to low conversion rates. If more than one issue seems familiar, you need to sit with the designer and make the necessary changes.
6. Your website looks old
Simply put, if you haven't updated your website design in the last decade, it must be way overdue. Those sparkling text and graphics, dozens of font styles and a colour scheme that screams "taste the rainbow" tarnish your reputation. Okay, your website may not be all "that bad", but it is very likely that it is still behind current website standards and trends. Staying updated with the latest trends is necessary to stay relevant.
7. You haven't updated your website in years
Think how quickly fashion trends change or electronic devices get updated; Websites must be kept up to date. Aside from looks, there are many reasons to update your site. For example, do you have a Secure Sockets Layer (SSL) certificate? If your URL does not have a small lock icon in front of it when viewed in a web browser, it is considered insecure.
8. You are not using Inbound Marketing
Just because a business has a website does not mean that it is optimized for inbound marketing. If your website is primarily informational but doesn't help educate your audience to build trust and guide them towards a purchase decision, it won't help you reach your growth goals. Using web application development services you can understand inbound marketing. A true inbound site will have content that will attract, engage, and excite visitors, with multiple lead conversion opportunities to aid in the lead generation process.
9. Your website does not reflect your brand
Your brand, products and messages evolve over time, but has your website evolved with them? The first impression visitors have can often make the difference between attracting a potential customer and taking another leap. Make sure you remember a well-designed website that focuses on your message, your brand, and your customers' vulnerabilities as they are today, not as they were a few years ago. If your business claims to be on top, but your website is anything, it creates a huge disconnect. If so, using UX/UI design services is required to start a new site or at least a Launchpad site.
10. Your competition has better websites
Users often open multiple websites when they are conducting research before buying. When they open websites side by side and if a competitor's website is considerably better and has a lucrative and smooth user experience, they are drawn towards it. An effective website should be equally appealing to you, your business partners and employees and customers. If you are not getting any new partnership or employment requests it is probably due to the same reason that they don't find your website attractive enough.
With the help of a UI & UX design service company, you can have an accurate analysis of the website that will reveal flaws and vulnerabilities; once you understand them, you can work on it to improve your website UX.
If you are looking to upgrade your website UX, what better option than Scrum Digital. Scrum is an award-winning company with years of experience providing digital transformation services to start-ups and big and small established businesses.