Drifting to cloud solutions is one of the best decisions you will make for your business. Implementing a cloud-based CRM in your business ensures consistent business growth by making sales and day-to-day operations easier and profitable. Cloud application development services basically refer to network computing through the Internet. However, there are several different types of Cloud application development services, each with different mechanisms and benefits.
Cloud application development services are the key merits of digital transformation services.
Mentioning the Pros of Cloud Solutions: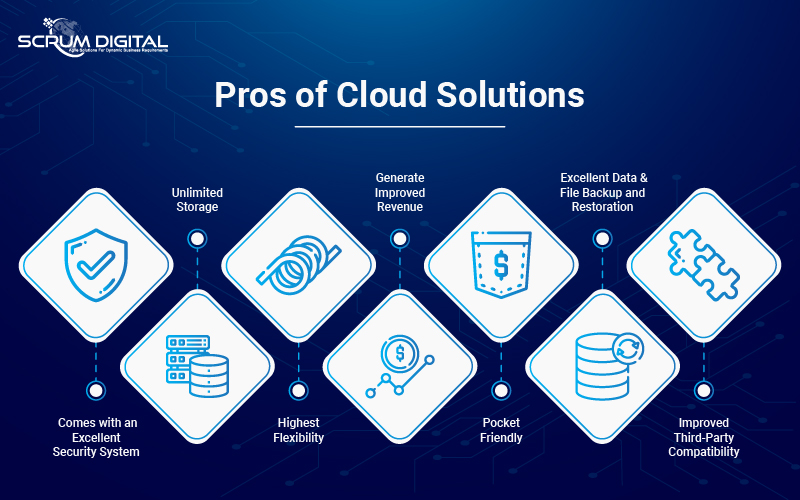 1. Comes with an excellent security system
Data stored on the cloud is secured using firewalls, block-chain technology, and security checks and regular maintenance by IT professionals. Additionally, businesses can protect their data with strong passwords and two-factor authentication for another layer of security. On top of that, after seeking Application development companies, cloud solutions receive regular security patches that not only enable additional security but also amplify functions.
2. Unlimited storage
No matter what cloud you use, you can buy all the storage you need and it is much cheaper than buying new storage hardware and software on a regular basis.
3. Highest flexibility
Cloud-based CRMs offer flexibility and scalability that the business can benefit from. A company can register or unsubscribe for functions that it deems appropriate or unnecessary for the company at a certain time. These digital transformation services can keep pace with business needs in terms of size, budget, and objectives.
4. Generate improved revenue
Using Cloud application development services improves your company's roadmap in the long term. With a robust cloud storage system, you'll find more satisfied customers, fewer complaints, and a highly productive workforce that can serve your customers anytime, anywhere.
5. Pocket-friendly
You would think cloud solutions would make you pay through your nose, but that's definitely not the case. Businesses can opt for monthly payments or annual subscriptions according to the needs of their business. Users are billed monthly; pay only when you're fine. Gone are the days of purchasing and managing applications, storage arrays, software, and security for unnecessary and useless services.
6. Excellent data and file backup and restoration
A cloud application development service is a service that backs up data and applications on company servers and stores them on a remote server. Businesses consider cloud backups to ensure a 24*7 availability of files and data available, especially in the event of a system failure, crash, or natural disaster. Users can also do this on private or corporate servers, but web application development company do it 24/7 by default.
7. Improved third-party compatibility
Users can access their applications, data and files from anywhere in the world and from any device, as long as they have a good and secure Internet connection. The cloud has disconnected the world.
But as we know, every coin has two faces; the same applies for digital transformation services. The cons for the service are: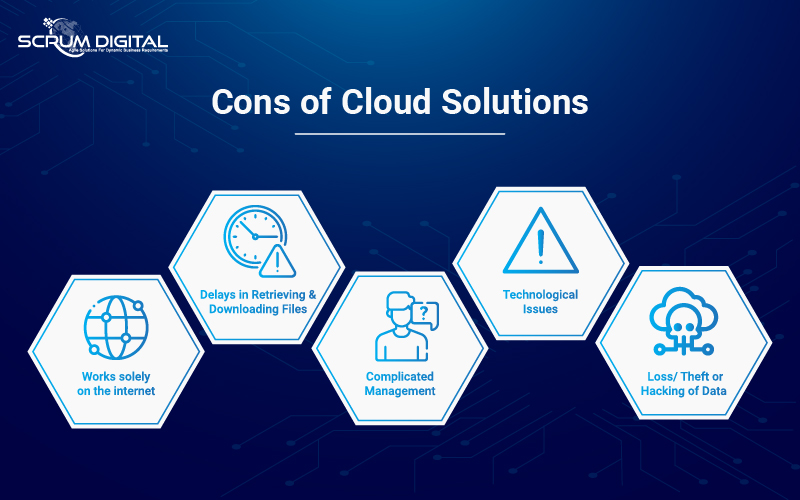 1. Works solely on the internet
While most connectivity providers achieve 99.99% uptime or are virtually out of business, there is always the possibility of a natural disaster, a billing problem, a line interrupted due to on-site construction or similar activity, or a major regional failure could deter you from doing your business online and put you out of the cold. While hackers wreaking havoc in interconnected data centers are rare, this kind of bigger picture problem could also occur. Thus, while using cloud application development services, users must be careful about their network stability.
2. Data recovery and data downloading takes time
On working with critical information and data, it's imperative for businesses to track the input and output rules and restrictions given by the CRM companies. VPC (Virtual Private Cloud) service controls have a set of inbound and outbound rules to allow access to and from resources and clients protected by service boundaries. Failure to understand the rules laid by the application development company could result in loss of time and work for the user or the company.
3. The management can be complicated
Cloud computing management raises many problems in the management of information systems, including ethical issues (security, availability, confidentiality and data protection), legal and judicial, blocking of data, lack of standardized service level agreements (SLAs) and technological bottlenecks in personalization and others.
4. Technological issues
Cloud provider sharing is associated with a number of risks. The most common type of cloud security barriers is unapproved access and misuse of employee identification. According to industry surveys, unauthorized access and insecure APIs rank first in terms of being the largest security breach in the cloud. Other vulnerabilities include Internet Protocol errors, data recovery lags, measurement, payment evasion, vendor security risks, legal and compliance risks, and availability risks.
5. Loss/ theft or hacking of data
If you save files and data on a third-party server, you are entrusting your crown jewels to the provider. In the digital world, data loss refers to the superfluous deletion of confidential information, either due to an error in the system or theft by cybercriminals.
Data loss is the situation of accidental deletion or corruption of data stored. Due to sudden attacks by viruses, or formatting errors data can turn unreadable to both humans and software. In other cases, lost files and information cannot be recovered, leading to a permanent loss.
Cloud solutions are undoubtedly one of the highly required digital transformation services but should be handled with utmost care. There may be cases where people avoid the guidelines given by the application development companies and end up in a bigger mess with the cloud bursting.
Cloud computing is the future of doing business and if businesses are looking to scale and grow, opting for cloud solutions is a small step in the right direction.
If you are looking for a Cloud application development company, Scrum Digital is the leading name, providing scalable and reliable cloud-based solutions to companies from a diverse range of industries.