Social PPC (Pay Per Click) is a component of digital marketing services but is only used for a wider scope of engagement on social media platforms. These ads are used to target users based on their locations, interest in different topics, or other criteria selected and analyzed on a different platform. They are considered the most beneficial form of social media services.
Usually, these paid ads appear on the user's "feed" or "timeline," and when the viewers further move towards the advertiser's account, the publisher grows. User engagement and goal-based metrics, such as CTR (click-through rate), conversion rate, and impressions, are often used to measure success.
In the current market scenario with several social media marketing companies growing daily, it is not new that people can be duped. With several available accounts, it gets really confusing to go for the real online reputation management company that provides us with the best digital marketing services. Scrum Digital is one of the best marketing companies providing excellent and gold-like digital marketing services, SEO services, PPC services, and social media services.
With the increasing number of advertising options from Facebook, Twitter, advertising and marketing solutions from LinkedIn, and most recently the promotion on Instagram, there are many online advertising options that can work with Google Ads and help create a successful and attractive social media handle. The social media marketing companies guide clients to grow and utilize all the digital marketing services to their peaks.
Benefits of Social PPC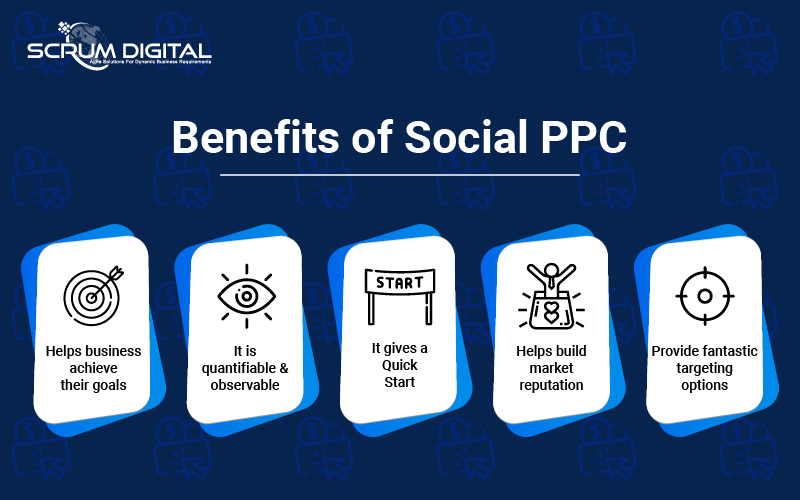 1. PPC helps businesses achieve their goals
This is usually the most alluring reason to opt for PPC advertising. These SEO services can help you achieve a wide range of business as well as industrial goals. Almost any type of conversion goal can be achieved. Under social media marketing services, PPC is a powerful tool that can target website traffic drivers to the ultimate goal.
In the age of content marketing and thought leadership, PPC can promote maintenance and service by facilitating content downloads, newsletter registrations, contest entries, and application downloads.
It can help support many parts of the sales pathway and your potential customers' path from being aware of customers. Having detailed goals, clear departmental positioning, and meaningful data used for reporting and analysis makes it very successful.
2. PPC is quantifiable and observable
A major advantage of having PPC services for the products is that it can easily run through Google Ads and can be measured and tracked anytime and anywhere. The advertisers get complete details including impressions, clicks, and conversions.
How is your PPC performing is no longer a secret? Statistics and data are available at any time, showing how the posted campaigns are performing, and what kind of traffic and results they get within the requested budget.
3. Quick start
Even if you are ten years behind your competitors when you start PPC marketing, you can get started quickly with some optimizations. PPC services help you attract vast media and sell your products with minimum effort.
4. Helps build market reputation
Social media marketing companies are also known as online reputation management companies. In addition to helping in a quicker way, they also create content for advertising that builds better fame in the market. Customers only go for companies they hear a lot about or something they find attractive, no one likes to spend money on a brand or shop they have never even heard of. It is undoubtedly true, the brand creates customers.
5. Provide fantastic targeting options
Many social media marketing companies use multiple methods in Google Ads to test and ensure comprehensive coverage of all networks and targeting types that can increase brand exposure. By testing and experimenting with different digital marketing combinations, you can ensure that Google Ads makes the most of its features and gets as many impressions as possible while focusing on the role of the potential audience. Going back to the discussion of business goals, you can also see what performs best, and set expectations for the cost-per-click and cost-per-acquisition tolerances to compare different targeting methods.
In the final analysis, the biggest benefit of the available PPC targeting options is that you can reach people who have not yet become your audience and have been exposed to your brand.
How should Social Media PPC be Measured?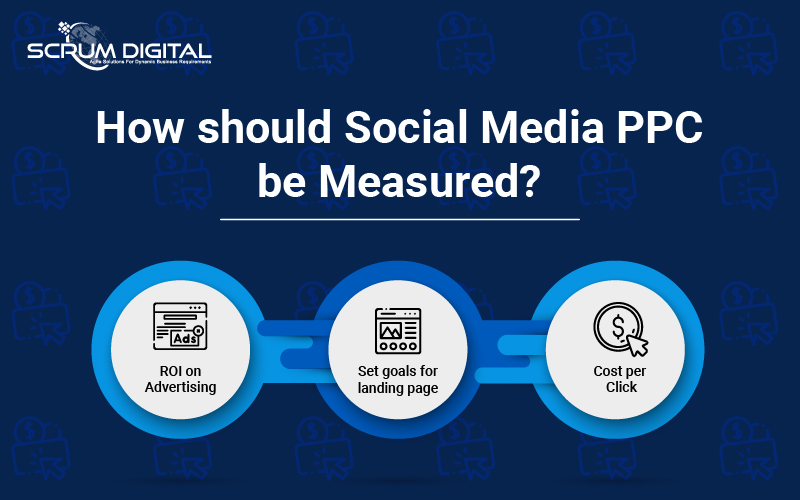 The action you use will depend on the goal of the event and your objectives. However, to measure the social PPC activity, certain tips should be used;
1. ROI on advertising
If a person does not gain the right ROI for spending huge amounts, the advertising isn't worth the effort. It should not be limited to more money, rather an increase in followers, more views, better reach should be considered while evaluating. The advertisers should measure sales, the number of potential customers, and CPA (just like regular PPC). Clients should check for the social media marketing companies that provide them with the most effective and efficient package.
2. Set goals for your landing page
It may depend upon the user, the goals they wish to set for their main page. It may be more visits, more follows, the loyalty of new visitors and current visitors. People should also track product clicks, downloads or form requests, and direct message requests. A company that provides essential digital marketing services, SEO services, and PPC services should be opted for so that they help their clients gain their goals faster. It is important to remember to measure value is never-ending on social media.
3. Cost per click
If you have to pay a value beyond your capacity, it is not worthy. When you can find additional niches and target attractive visitors to your website for less money, you can easily focus to maximize your ROI. Opt for companies that provide the best package for PPC services and make sure that paying factors are estimated and matched with the services provided
Scrum Digital is an industry-leading PPC advertising agency that provides PPC advertising services to help boost your sales and attain high-quality leads for your business.