For companies to continue to succeed in their business and with their products as they mature, they need to acquire new product development services through a carefully implemented and ideal business growth consultation. Many of the companies struggle to effectively utilize those services, but beneath all struggles, they must find the subtle potential for their success.
There are more than thousands of products in the development process but only a handfuls of them make it in the market. Therefore, it is important to understand consumers, markets, and competitors in order to develop products that offer great value to their customers.
New Product Development:
If a company wants to succeed in the long run, it needs to be involved in the new product development process to introduce new products and meet ever-changing customer needs.
Thousands of new products come into the process, but only a few are able to catch the customer's eyes. Therefore, it is very important to understand the customers, market conditions, and competitors who offer the same type of product. Each product goes through eight steps in the new product development process.
Moreover, there are plenty of companies working in the market currently to provide required product development services, MVP development services and more.
The eight steps mentioned below are a foolproof way for a successful product development process: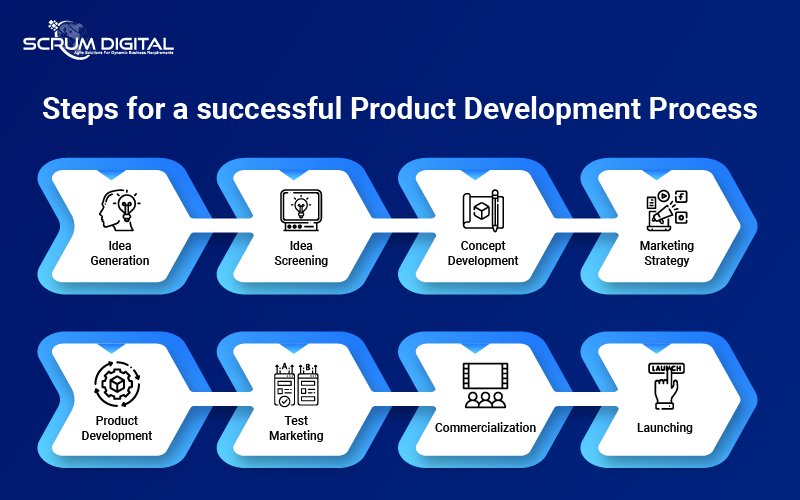 1. Idea Generation
This is the first step in the new product development process- methodical research for discovering new ideas. It comes in all its forms, from anywhere. In the first phase, new ideas are gathered from many sources.
Internal source: In most cases, large companies have their own formal R & D departments. But usually, every employee can have a good idea.
Customers: Companies should always listen to customer questions, complaints, and feedback to help them develop new product ideas to solve their problems.
Competitor: To generate ideas, companies can perform a SWOT analysis of their competitors.
Distributors and Supplier: Also known as collaborators, they are close to the market. They are aware of consumer issues and are aware of new ideas and techniques for addressing these issues.
Far off with the help of the paired Business Growth Consultation, you can have a better view of the idea generation.
2. Idea Screening
Idea Generation can provide a pool of ideas. But the second step in the new product development process is to come up with good ideas and get rid of bad ones. Below are some factors that influence the criteria for success. Does the product serve the
What are the needs of our customers?
Company goals and resources (people and skills)?
The strengths and weaknesses of the company's?
Affordable, Promotional, and Distributing?
What is the current trend?
Expected Return on Investment
In order to fully utilize the product development services offered to you, you should have a full-length conversation with your paired company.
3. Concept Development and Testing
Concept Development and Testing is the third step in the new product development process. The product concept provides a detailed description of the idea. Consider the consumer's viewpoint. These ideas need to be tested as they certify the screening phase as a concept. A company cannot bring a new product to market without thoroughly testing the concept. Concept testing helps companies study customer reactions before they hit the market.
More physical and visual representation is needed for more reliable concept testing. This concept further integrates the target market. After the concept is revealed, the company asks the consumer a question. Companies want to know what their customers are doing in the form of feedback. Is the concept attractive and does it meet the customer's requirements?
Also Read: How Startup Consulting Services Help Startups Grow
4. Marketing Strategy and Business Analysis
In this step, the company develops marketing and business strategy and succeeds in bringing new products to market. The company employs various business units to perform marketing and financial analysis to achieve its marketing goals.
The company first describes its target market and product positioning. You also need to explain short-term and long-term forecasts, market share, and profits. The company also describes its marketing mix strategy. The Business Analysis includes a detailed review of your company's cost, venue, and profit forecasts to determine if your company is happy with its goals.
5. Product Development
When all marketing and business strategies are implemented. This step involves product transformation from an idea into a physical one. During the development phase, prototypes are designed that are functional and can meet consumer needs. The product has undergone serious testing to confirm its effectiveness and performance.
Also Read: Minimum Viable Product for Startups
6. Test Marketing
After a successful prototype is designed, it will be introduced for further research and feedback. With the help of test marketing, the company seeks to understand feedback and reactions from consumers and retailers. Significant changes are made to the actual product as needed. This step completes the process and allows the company to bring new products to market.
7. Commercialization
Test Marketing helps companies make decisions and bring new products to market. Commercialization will introduce new products to the target market. With the aid of product development services you are to make these four decisions- these are important when launching a new product.
When should the product be deployed?
Where are the new products launched in the domestic or international market in more than one location?
Who the company must decide on promotion (already decided in the test marketing phase).
How companies should introduce new products to their target markets (action plan).
8. Launching
You should work on a creative and outstanding introduction for your new launch in order to leave a positive impact on the market. Moreover, the responses received have a direct impact on the business.
Scrum Digital has been an industry leader for years now with its impressive product development and MVP development services. Moreover, they also offer business growth consultation, staff augmentation services and startup consulting services to name a few with such variation and diversification in services provided by them, they are one-stop digital service providers.