In recent times, IoT application development services have upgraded from their initial point to a demanding stage today owing to increasing business value as they play an important role in digital transformation. The continued growth of this industry proves to be the power of digitalization across all enterprises. IoT is the new face of the Business world.
The digital boom has given enterprises the opportunity to embrace CMS development company and utilize their IoT application development services and digital transformation services to gain a competitive advantage and deliver a better customer experience. However, the benefits of IoT can be deeper than the growth of sales and profits.
Below are the many ways IoT is revolutionizing the business sector and helping business owners-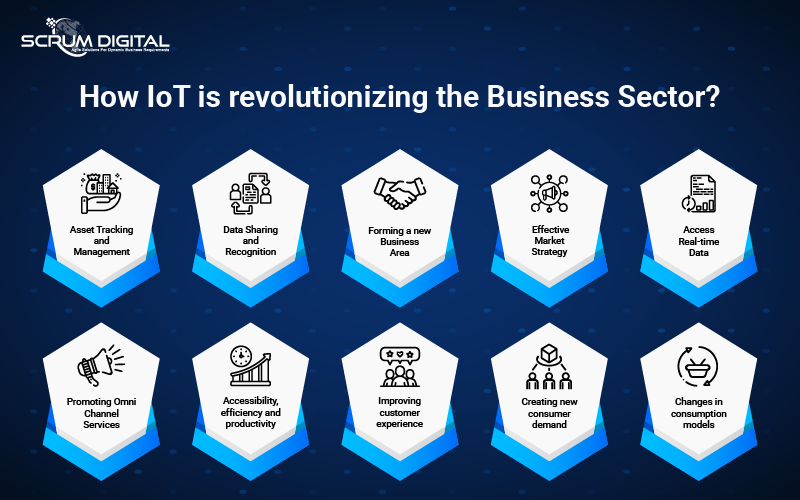 1. Asset Tracking and Management:
IOT application development services allow you to manage your inventory by granting some automatic control options. Similarly, using these services you can track assets in the supply chain is an ideal solution for tracking assets lost in transit. Pairing with CRM development companies, IoT products and software in warehouses and storage units can help you manage inventory changes. In addition, incorporating surveillance equipment into the systems and analytics can prevent theft before it happens.
2. Data Sharing and Recognition:
Almost every company uses data acquisition and transmission, and the introduction of IoT development services has revolutionized the way data is processed. IoT applications can not only improve access to user data but also track patterns of users connecting to devices. By learning from patterns, your application will be smarter and provide a better user experience. At the same time, IoT products help companies decrypt this data for business growth. You can use this data to explore consumer needs, buyer cycles, expansion opportunities and inventions, and marketing and advertising approaches.
Also Read: Your Key To Success: IoT Development in Healthcare
3. Forming a new business area:
Companies not only develop products but also monitor product performance, thanks to predictive maintenance algorithms built into the IoT platform. The possibility of transferring IoT data through the ecosystem of customers and corporate partners enables new innovation paths in the form of continuous engagement and value-added services.
4. Effective Market Strategy:
Organizations can capture, process, visualize, and respond to vast amounts of diverse data, ultimately allowing them to develop strategies to meet their customers' needs. Internet-enabled devices give you a 360-degree view of your customers' preferences and help you build campaigns to boost your audience's sales. In addition, it helps digital transformation services like segmenting customer base, increasing customer satisfaction, and generating bespoke offers to enhance your experience.
5. Access Real-time data:
Real-time Insights revolutionize enterprises by enabling live data from processes, devices, and people through sensors and also help application development services and chatbot development companies to improve their products and services. The visibility of what's really happening can be a game-changer. Innovation is already seen in the core industries, especially in retail. Knowing shoppers in real-time allows retailers to store their products on shelves and increase profits through efficient sales and inventory management. The Internet of Things plays an important role in connecting devices such as systems and smart cameras and working together. In this way, companies can make wise decisions and ultimately acquire business model innovations that help them reach their business goals.
6. Promoting Omni-Channel Services:
The omnichannel sales approach is very popular today because it streamlines the entire shopping experience. CRM development companies play an important role in facilitating this service and improving the user experience over and over again. Integrating sensors into devices connected to the Internet makes it easier for organizations and manufacturers to monitor remote operations, status, and service levels and provide immediate support when needed.
Also Read: Patient Monitoring Mobile Apps
7. Accessibility, efficiency and productivity:
Beyond every aspect, customers are always looking for fast delivery. The logistics service providers and suppliers, use IoT application development services to ensure fast and swift delivery of their orders. When processing at high speeds, things don't just close. Enterprises also need maximum efficiency and productivity. Improving market and consumer information can increase your business productivity. In addition, the IoT supports a wide range of automation orchestration, enabling real-time operational efficiency. These innovations will make companies cheaper and, as a result, make the paste more economical and more feasible to manufacture, greatly expanding the landscape.
8. Improving the customer experience:
If customers are not enthusiastic about your product, they will never give positive feedback, which will ultimately lead to a decrease in your market sales. How can you improve customer satisfaction?
A viable solution is to build a product using the IoT development services and digital transformation services provided by CRM development companies. The Internet of Things helps support teams easily address and resolve issues by assisting support teams with improved tools for monitoring customer issues.
In addition, the immense incorporation of chatbots and artificial intelligence IoT will emphasize on customer satisfaction and gives organizations unique accessibility to their lives. Chatbots integrate data to identify specific issues with services and products that can be improved. Incorporating AI into IoT operations provides customer relationship managers with valuable data and immediate support for their customers. This will allow you to make better use of your product. Using chatbots development services, you can make any process much simpler.
9. Creating new consumer demand:
When customers began to recognize the value of IoT applications, they began to seek new products and services to try. People only buy what's in trend. For example, smart refrigerators create shopping lists based on inventory. These would have looked defenseless 10 years ago. In the upcoming years, this will be a standard feature in all the refrigerators.
10. Changes in consumption models:
The economic impact of the Internet of Things is driving changes in consumption models. New business models that innovate the way products are purchased have flexible consumption requirements. IoT makes it easy to measure product usage and calculate according to usage.
Why Scrum Digital?
CMS development companies are now determined to take business sector to next level, Scrum Digital is a pioneering firm providing digital transformation services. Scrum has been a leader in this field for several years now; the company believes in customer satisfaction with the usage of futuristic trends.