Search engine marketing or SEM is the art of marketing your business with paid ads that show up on search engine results pages. Advertisers bid their amount on keywords on Search Engine platforms such as Google and Bing to promote the products when searching for a particular product or service. PPC management services allow advertisers to place ads with the results of these search queries.
The greatest strength of search engine marketing is that advertisers can display ads at the exact moment they are ready to buy, in front of motivated and ready-to-buy customers. No other company other than a social media marketing agency can do this, which is why digital marketing companies are so effective and efficient to grow your business in all aspects.
What does SEM marketing include?
The meaning of the SEM is so broad that there are several aspects to the SEM. But it mainly includes paid methods. SEM uses the power of search engines such as Google, Bing, and Yahoo through paid advertising; it mainly aims to reach potential customers at the right time and place.
The meaning of SEM is more commonly used to refer to PPC management services because it uses a paid search method. That said, you might ask yourself, "Is PPC the same as SEM?" The answer is yes. PPC or PPC advertising is the synonym for SEM. The SEM process deals with what we term PPC advertising.
Most Important components of SEM:
1. Impressions:
The number of times your ad campaign has been shown on your screen. That doesn't mean that people saw it.
2. CPC (Cost per click):
The amount you pay when a user clicks on an ad.
Also Read: Does Pay Per Click Work?
3. CPM (Cost per million impressions):
This is another payment method for paid search ads. Depending on how you set your goals and advertising tools, it's a good idea to pay only for being seen.
4. CTR (Click through rate):
The number of clicks you receive on your website from someone who sees your ad, even if you didn't click on the actual ad itself.
Benefits of using SEM Services: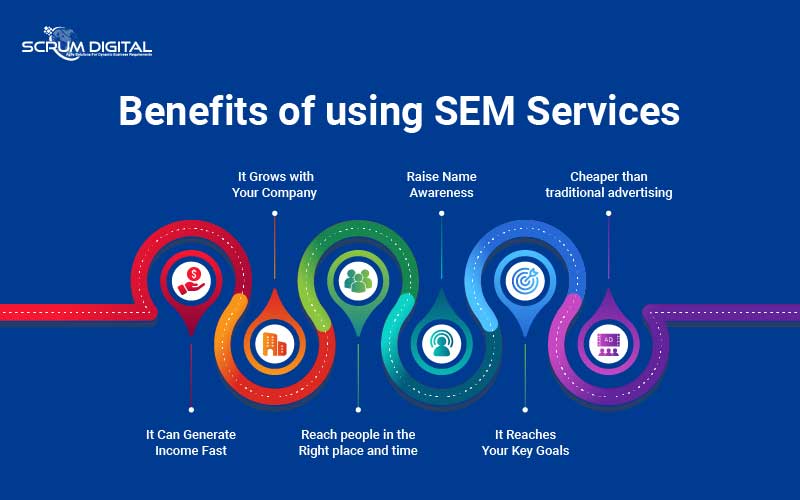 1. It Can Generate Income Fast:
With the right advertising text and strategy, you can see your sales on the same day. It doesn't take long to start. It's really easy to get started with something like advertising. However, maintenance is required to obtain a proper SEM ROI.
Also Read: How to Boost Your Customer Retention Rate?
2. It Grow With Your Company:
What is SEM? It's incredibly scalable. It's easy to start small. Test things. See what works. If you have a very limited budget, keep costs down. Increase the number of ads as the SEM increases revenue. Remove ads that don't work. Improve your campaign. And increase your daily advertising costs.
3. Reach People in the Right Place and at the Right Time:
Almost half of the world's population is now online. Over 93% of online experiences start with search engines. The search engine brings more traffic to your website than any other source without being biased towards your product or service. With a few exceptions, your journey begins online. If you see it in your search results, it means you're where your customers are. It's also the perfect time to increase website traffic and attract new customers.
People are using a search engine because they are looking for something. If you are the person who delivers it, you can keep an escrow account with that person. Even if that click doesn't lead to an immediate sale, it's a contract that facilitates a path from a person to a paying customer.
4. Raise Name Awareness:
When you attract a new customer, you might think that person found you and bought it. However, the trip may have started days, weeks, or even months ago. During this time, the consistent and repetitive way of presenting your brand has helped turn prospects into paid customers.
5. It Reaches Your Key Goals:
Search Engine Marketing allows you to focus on your target customers in ways that traditional marketing couldn't. Why? Traditional routes are incredibly expensive. Google Ads (formerly Google AdWords) or Bing ads don't cost until someone clicks. You can create1 or create 100, but it's not a good idea to manage that number first.
The point is that the more targeted you get this ad, the more likely it will be accepted by your customers. Aiming for this level will connect you at a meaningful level. Show that you don't throw the net too far and see what you pull in. Instead, we know exactly who will benefit most from our products and services.
6. Cheaper than Traditional Advertising:
Why is SEM so much cheaper than traditional marketing? It's easy. Because you are in control. That's how it's done. You're watching a particular show, but you're not paying $ 1 million to reach 10,000 potential target customers. Instead of targeting demographic groups very broadly like TV ads, you can set a narrow focus to increase conversion rates. If your ad has a low conversion rate, drag it or fix it quickly.
Traditional ads will run during the contract period. You need permission to make changes. And it costs more to do that. If your SEM ads are working very well, or if you're experiencing unexpected sales declines, you can easily and quickly scale up. You can increase traffic and sales with just a few clicks. Block ads if we receive more orders than we can handle. It's very easy. After all, the cost is low because we know a lot about what works and what doesn't. You can assign sales directly to your ads.
Why opt for Scrum Digital as the Best SEO Company?
Scrum Digital is a prominent player when it comes to providing the best social media marketing services, PPC management services, and so much more. Scrum has been serving its clients with all known services under digital marketing. From digital transformation to social media marketing, Scrum Digital helps its clients keep up with the newest tricks and trends available in the market for a successful digital marketing campaign.