A startup is typically a small business that has recently been formed, is still seeking its product-market fit, operates in constant uncertainty, and has a limited number of resources at its disposal. Keeping these challenging circumstances in mind and the hunger for startups to grow, it is essential to have unbiased feedback or advice; and that's what startup consulting offers.
With so many unknown factors to consider, getting started for your startup can be difficult as an entrepreneur. Startup consulting services support new ventures; having expert advice available can significantly improve your chances of success; their methods are a time saver and can drastically reduce budget requirements only by avoiding costly mistakes. Startup consulting services are highly beneficial to a new venture.
Startups have a complex task ahead of them. With a legal business structure in place, business owners have to manage several areas to be successful. Startup consulting services help in these areas. They frequently provide much-needed assistance to entrepreneurs, startup companies, and partners.
Services of Startup Consulting Firms: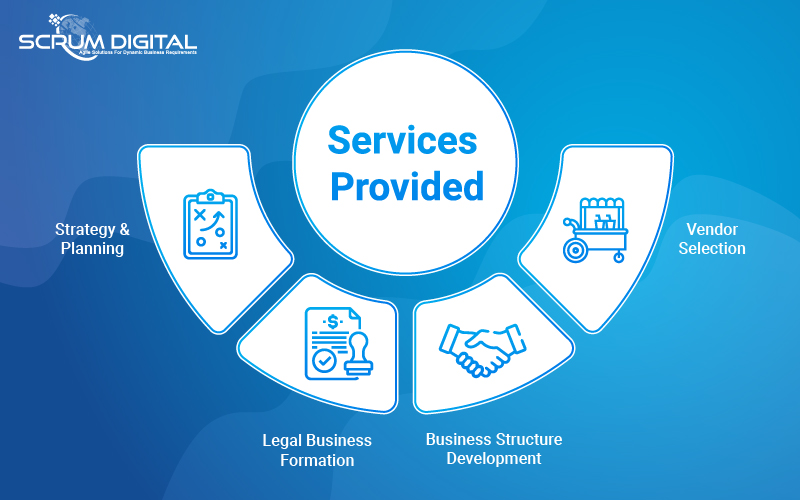 1. Strategy and Planning
The consulting units help clients through analysis, statistics, and design steps. Clients collaborate with experienced consultants to plan critical steps for their startup business and perform actions efficiently. These units study all the companies' social, economic, technological, and political reports and help create a stratified and worthy plan to help the enterprises reach their potential growth.
2. Legal Business Formation
No matter how big or small a corporation is, everyone is bound by specific laws and acts and cannot act beyond it; clients must form a legal structure for their business. Consultants advise on options such as the kind of ownership to opt for sole proprietor, partnership, joint venture, etc., type of corporation, LLC, and the pros and cons. They also help in making other accounts such as banking, demands, and more.
3. Business Structure Development
Startups have to go through the hectic hassles of executing multiple items simultaneously. Consultants help assist their clients in accomplishing significant critical steps in the early stages of the business like MVP app development, product development services, staff augmentation services, setting up CRM, etc and avoid complications later. They also prepare the organizations for future scenarios.
4. Vendor Selection
Newly opened businesses are supposed to hire several vendors to build up the critical components of the company. Consultants help clients by providing them with reliable teams to act out those essential elements of starting a business. Bad debts are one of the most significant issues startups face; the consulting firms help select trustworthy and ideal vendors to procure the best products.
Startup Consulting Services Benefits
Startup consulting experts work strenuously for different organizations to overcome unexpected and dynamic challenges with expert advice, experienced staff, and an unbiased approach. Their feedback on details of performance, organization, and other vital aspects sheds light on the actual state of your startup and provides specific direction to improve it.


Startup consulting specialists work to reduce costs and save time in the long run, as they focus on your company's sustainable profitability. They can also identify issues with your internal structure and processes that may be the source of ineffective day-to-day work, resulting in deadline problems.


Startup consultants access valuable resources to give your startup the critical edge it needs in its growth phase and empower you to make informed decisions.


Startup consulting services experts know to identify the potential of a startup within its market and create a detailed plan to pursue it. Therefore, these experts can provide valuable advice on management, strategy, marketing, and finance.


These professionals help outline individual business steps to get started and expand their reach in the comprehensive economic market. It is a must for a new business to execute all necessary actions to get created successfully. Via different agencies, experts work with clients to ensure better results and proper execution of objectives.


Like every other business startup, entrepreneurs and their organizations have business goals. Gaining Professional consulting services provide temporarily added help to execute tasks and objectives to meet these business goals.


Business consulting services assist clients in performing time-consuming marketing and sales research. This research aids startup in implementing a more results-driven strategy. With their service in the marketing and sales departments, these activities are refined for better results from the start.


Experts help businesses grow their startup ventures and make them reach the skies. Partnering with professionals from the very beginning helps achieve higher quality results. The consulting firms help clients in the early critical stages of a startup and provide steps to make them flourish.
Growth Consulting Firms
A growth development firm offers consultancy services, which focuses on understanding a company's objectives and desired goals, identifying its key challenges, and providing strategic advice that generates results and delivers financial success.
Benefits of Growth Consulting Firms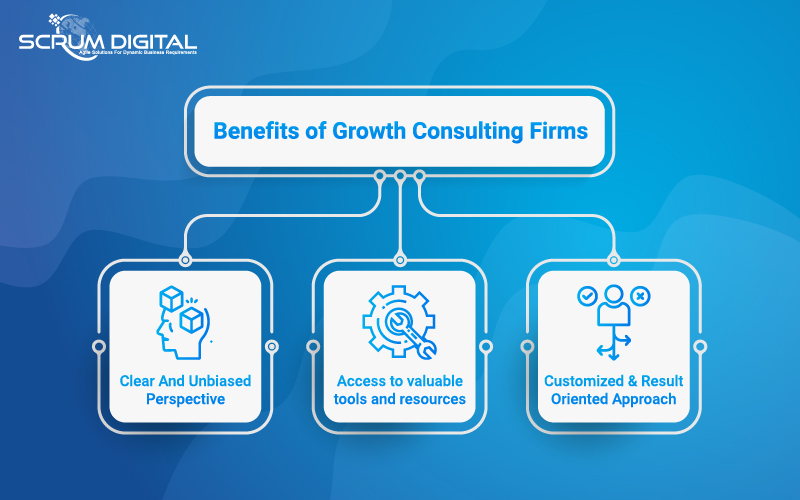 1. Clear And Unbiased Perspective
Because Growth development firms have the expertise and experience to see the big picture, growth consultants can assist organizations in overcoming challenges. In other words, they regard your company as a component of a larger ecosystem that includes the industry and your target market.
2. Access to valuable tools and resources
Growth development firms typically have access to a wide range of valuable resources, including subscriptions to the most recent market research and cutting-edge tools.
3. Customized And Results-Oriented Approach
To assist businesses in growing and achieving their goals, Growth development firms take the time to learn about their clients' struggles and needs and then tailor their advice and strategic action plans to their specific clients' challenges and goals. Furthermore, they take a results-oriented approach in assisting startups in setting the appropriate goals and milestones.
There are numerous paths that a startup can take to become a rapidly growing company. The key is to strike the proper balance between what you must give up and what you receive in return. Scrum Digital helps you achieve that by taking your startup to the next level and focusing on both your short-term and long-term goals. Get in touch with our consultants to know more about our startup consulting services.