With the advent of the digital era, we have become more dependent on our smart devices. In the age of smartphones, people continue to use them for managing their schedules, planning work calls, keeping track of meetings and business processes, staying connected with friends via social media, and also booking appointments for doctor's check-ups, and much more. Since smartphones have given us the luxury to explore each vertical, tech-savvies have made our lives easy with several revolutionary healthcare apps.
Due to recent innovations in the healthcare industry, an app development company has become an essential partner to any healthcare industry.
Apps that improve communication, efficiency, and quality of healthcare services are transforming the healthcare ecosystem. By 2025, the mobile healthcare market is expected to reach a total value of more than 189 billion US dollars.
The medical industry benefits greatly from healthcare apps. This technological marvel can benefit not only doctors and patients but also hospital staff and pharmacists. Existing and emerging IoT application development services are helping these industries to reach out to people of all classes of society. Online consultations, diagnostics, appointments, and delivery of medical supplies are all possible with mobile healthcare apps.
In top app stores around the world, there are more than 318,000 healthcare apps. Nearly 200 new healthcare apps are released every day. Why is this number increasing? It is simply due to the extraordinary benefits that technology provides these days. Let us understand 6 important ways in which Mobile Apps Are Transforming The Healthcare Industry.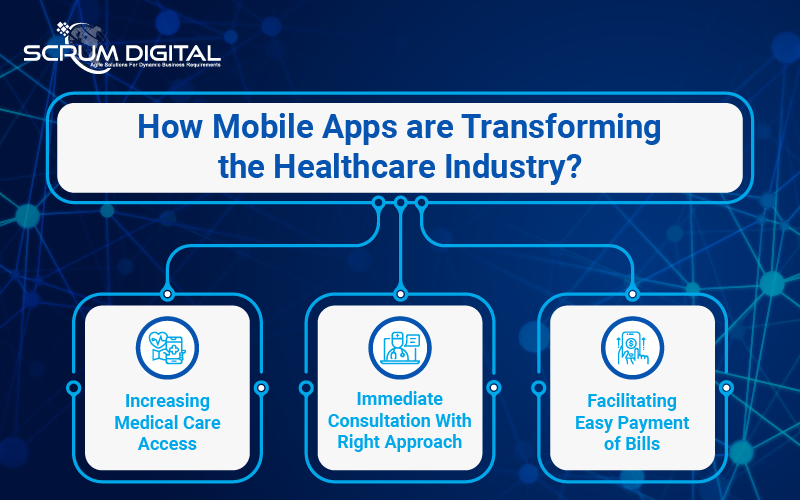 1. Increasing Medical Care Access
Access to medical services is being improved through healthcare mobile applications. There are many healthcare apps that connect patients with pre-qualified medical professionals. A lot of these professionals can provide consultation for health problems that aren't life-threatening.
This reduces wait time and travel time for many patients while also improving their quality of life. As a result, patients do not need to worry about rescheduling or delaying access to the services they need.
Several healthcare apps can connect patients to doctors in real-time via video telehealth appointments. As a result, patients can still receive a consultation. If necessary, the doctor can also prescribe medication based on their condition. However, such healthcare mobile apps need to be designed precisely by a reputable mobile app development company.
2. Immediate Consultation With Right Approach
One thing has become crystal clear during the current pandemic: access to therapy is critical to prevent many hospitalization cases. The patient may not be able to make regular visits to the hospital if he or she lives in a remote place. Sometimes, waiting times can be excessive.
Patients and healthcare providers are able to communicate more effectively through telehealth consultations. The program makes clinical care more accessible in rural areas and expands its scope. With a mobile app consultation, patients can receive therapy at any time, from the comfort of their homes.
3. Facilitating Easy Payment of Bills
Mobile healthcare apps make it easy to pay bills. Patients can pay directly for their medications, consultations, and medical services through many mobile applications. The patient does not have to wait in long lines at the clinic or doctor's office to pay for their services. There are also apps that offer different payment plans to allow the patient to pay their bills immediately.
As an alternative, patients can set up a billing reminder to receive alerts when their bills are due. These applications are also increasing security for transactions, thanks to the latest mobile technology innovations. Top application development companies build apps using a comprehensive and advanced technology. That is why bill payment is definitely made easier with mobile healthcare apps.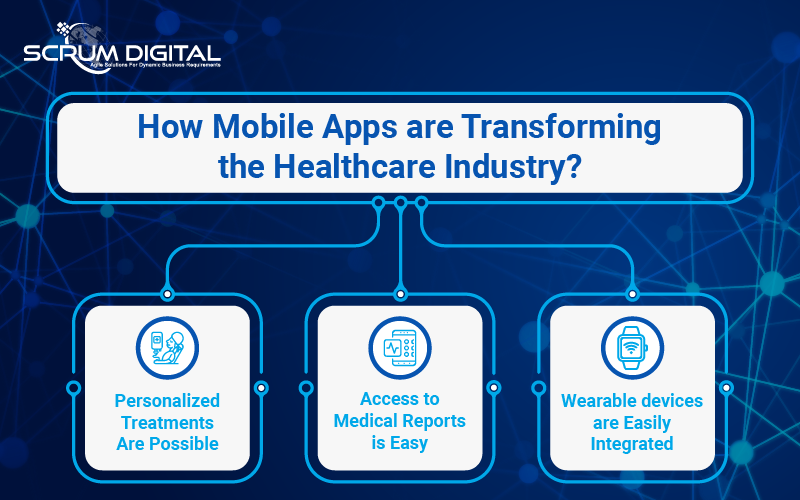 4. Personalized Treatments Are Possible
Each individual has a different medical history. Based on the patient's primary and secondary health concerns, each patient deserves a customized treatment plan. Using mobile apps, healthcare software solution providers can create tailored treatment plans for better illness management and track goals and outcomes. By having access to reliable disease information, patients can better manage their health. Despite being ill, the patient should be able to live a normal life by providing comfort.
5. Access to Medical Reports is Easy
The use of mobile applications has become the most popular and valuable tool for healthcare professionals. Medical reports are easily accessed by doctors through mobile applications.
6. Wearable Devices are Easily Integrated
Fitness-tech companies are embracing wearables as the latest craze among fitness freaks and health enthusiasts. Statistics predict that by the end of 2022, the number of connected health wearable devices will reach one billion. Clearly, the wearable revolution will continue. Consumption of wearable technology will only increase as more and more people become aware of them.
With the integration of wearable devices with mobile apps, data collection for fitness and wellness, health care, activity monitoring, and more has been transformed. Wearable devices have also brought significant changes in the way businesses operate thanks to their wide range of features.
Key Takeaway
The healthcare industry is being transformed in several ways by mobile apps. Mobile apps are making medical services more accessible. Furthermore, healthcare apps improve communication between doctors, staff, and patients. Medical data is also more easily stored with healthcare apps. Remote monitoring is also possible with mobile healthcare apps. However, all of these can be achieved only when the healthcare industry chooses the right mobile app development company for its app development. Scrum Digital is one of the leading application development companies that can build applications that exceed your expectations. Visit https://scrumdigital.com/ for more information.