You've probably asked yourself at some time in your life, "What celebrity do I look like? and " "Do I have a doppelganger in this world?" Well, with the power of technology in the palm of our hands you can easily find your celebrity look alike.  Some applications create your celebrity twin based on face recognition technology. To find out what celebrity you resemble, all you have to do is submit a photo of yourself and choose the proper filters. These programs employ face recognition technology to analyze facial traits like hairdo, skin tone, eyes, etc. to discover the greatest match and assist you in locating your famous twin.
There are currently a variety of best celebrity twin apps available for both Android and iOS, and even in 2023, these user-friendly programs are becoming quite popular.
Read this article entirely to learn about applications that can help you locate your celebrity twin while maintaining your privacy and not collecting any of your data.
List of Top 10 Celebrity Lookalike Apps of 2023:
1. Gradient
An original application concept was developed many years ago by a company name "Gradient" in Ukraine. One of the gradient's distinguishing attributes is its "look like" or "famous face match" feature which is a renowned celebrity doppelgänger function that allows its users to upload their photos and see which celebrities are the greatest matches for them.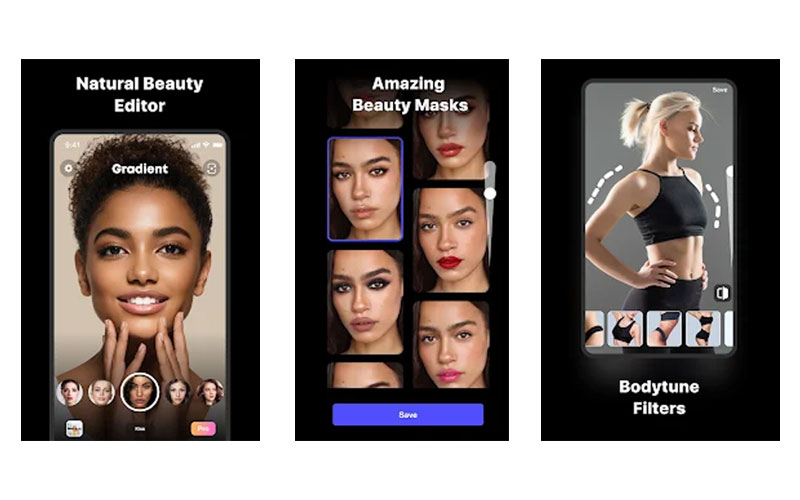 When the program originally debuted, it used rudimentary machine learning to produce clones of famous people.
Top Features of the Gradient App
Using the user's picture or photo as a foundation, it offers AI portrait solutions.
You may make a range of hairstyles and hues with the imaginative, outstanding hair collages that are included.
You may let your relatives and friends see your photos.
With the aid of improving AI technologies, you may calculate your attractiveness score.
2. Star By Face
This is among the top celebrity doppelganger applications. As the name implies, this function acts as a celebrity look-alike generator to produce an image that resembles the faces of famous people. The software uses facial recognition technology to recognize facial data when mobile users upload images of celebrities that resemble themselves or anybody else to assist you in finding celebrity lookalikes.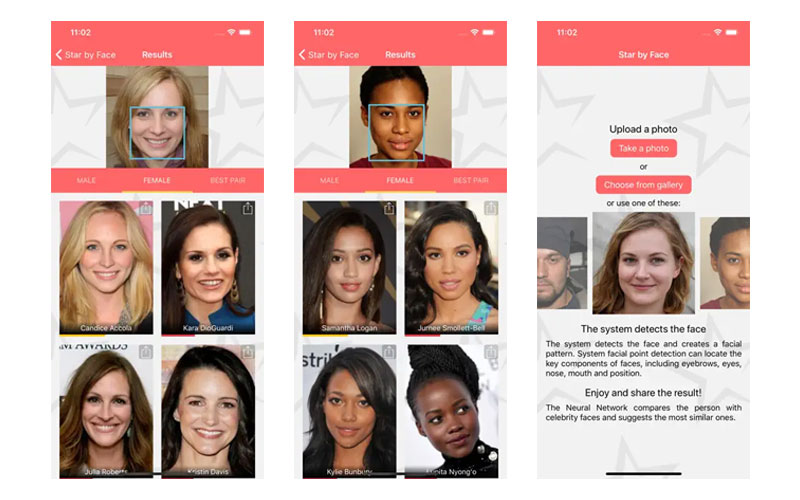 Top Features of the Star By Face App
Data security for users is given utmost priority by Star By Face app rules.
It offers modified photographs with the greatest resolution.
Its user interface is pleasant.
The program is available for free download by users.
3. My Replica
If you prefer to give your images a polished look, this celebrity lookalike software is ideal for you. The program offers filters that can make the image appear more authentic. It is an all-in-one program since it may offer filters that offer flawless retouches to enhance celebrity likeness in images. You may use my replica app to see what celebrity I resemble using face recognition technology, and it also has an editing capability utilizing cutting-edge machine learning technology.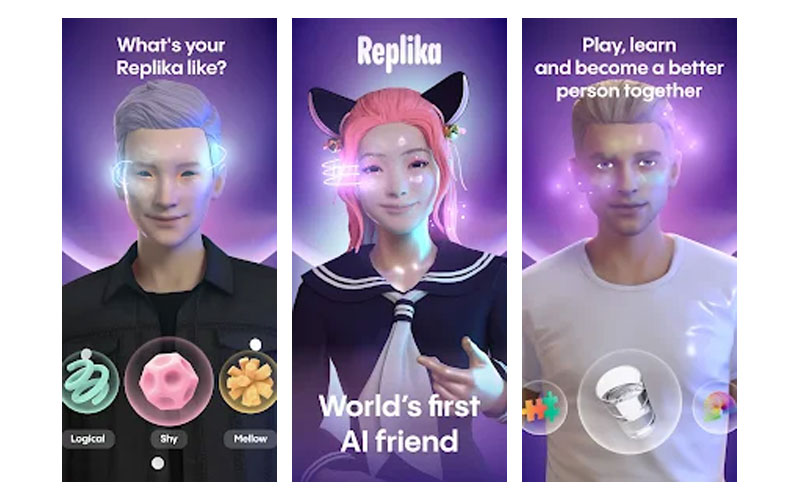 Top Features of the My Replica App
It has sophisticated machine learning software-based built-in picture editing technologies.
With the help of this app's celebrity look-alike-generator technology, you can quickly identify your famous twin.
It's a straightforward, quick, and enjoyable application.
The program compares the user's face with well-known personalities including singers, politicians, historical figures, actors, actresses, athletes, and much more.
4. Celebs
Due to the use of machine learning in the development of this app, Celebs offers a remarkable comparison and increased accuracy when it comes to finding your celebrity twin. This software boasts an incredible degree of accuracy and to assist users to discover the optimal experience, this program first recognizes emotions using face recognition algorithms and compares your characteristics and face to those of thousands of celebrities, giving you the appearance of a famous public figure.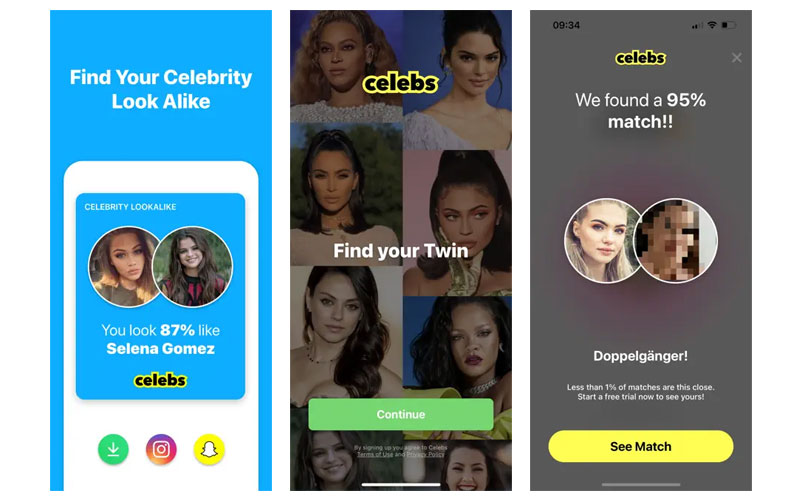 Top Features of the Celebs App
This app's AI graphics are genuinely amazing.
The software allows users to check up on celebrities that resemble them perfectly.
The recognition of famous people and twins whose features perfectly match them.
5. Y-star
You might determine in a matter of seconds if you resemble a superstar or not by using the Y star app. It's as easy to use this software as it uses your phone's camera to take a photo to find out which celebrity you most resemble, just take a picture of yourself with the Y star camera and wait for the astonishing results.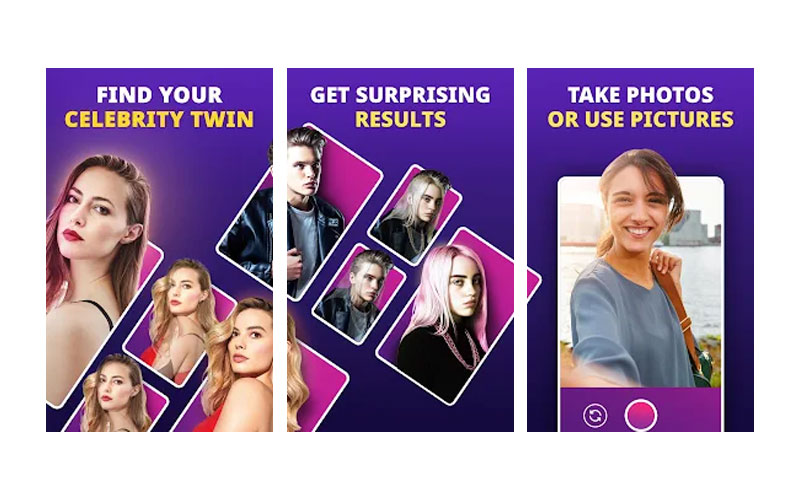 Top Features of the Y-star App
Regardless of your gender, age, or the number of scars on your face, this app matches you with your perfect celebrity twin.
The front-facing camera's data is used to create the automated findings in this app.
Results for celebrity appearances are precise and of the highest caliber.
6. Lookalike
You may locate many celebs with the aid of this free software that was created for both Android and iOS users. You may choose from a broad range of celebrities to locate some that meet your preferences. You only need to post your photo, and celebs will be paired with it. The software can locate the image that most closely matches yours.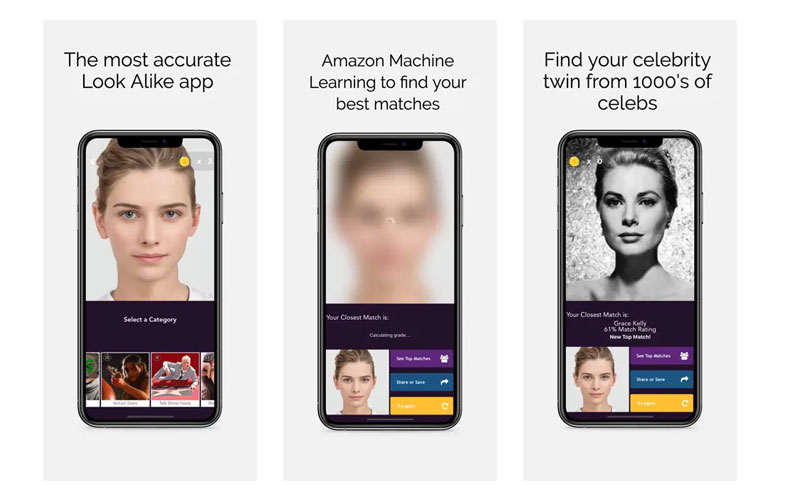 Top Features of the Lookalike App
It offers a user-friendly layout and a sizable celebrity database.
The app gives specific twin recommendations for a certain match.
The app enables users to share the outcomes across different social media channels.
7. Looky: Celebrity Look Alike App Free
Looky is another highly user-friendly tool for finding celebrities that resemble you. Selfies can be immediately taken by users using a camera app and the server shows the most relevant results. You can snap another picture if you're not happy with the outcome and may publish the outcomes on social media after you have the desired result of looking like a well-known person.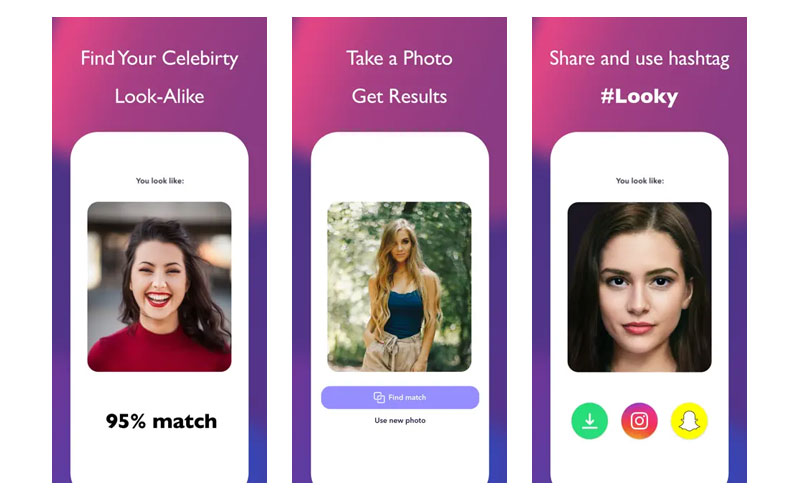 Top Features of the Looky App
It makes advantage of built-in AI facial recognition.
It enables you to edit your images professionally.
Collage, filters, stickers, and frames are among the options which you can use to create better images.
8. Facer
Another highly popular app among users is Facer. Users may choose three of their favorite celebrities with this app, with each having a percentage of similarity to the other two. Facer features a sizable celebrity database that includes several well-known actors, musicians, politicians, athletes, bloggers, etc.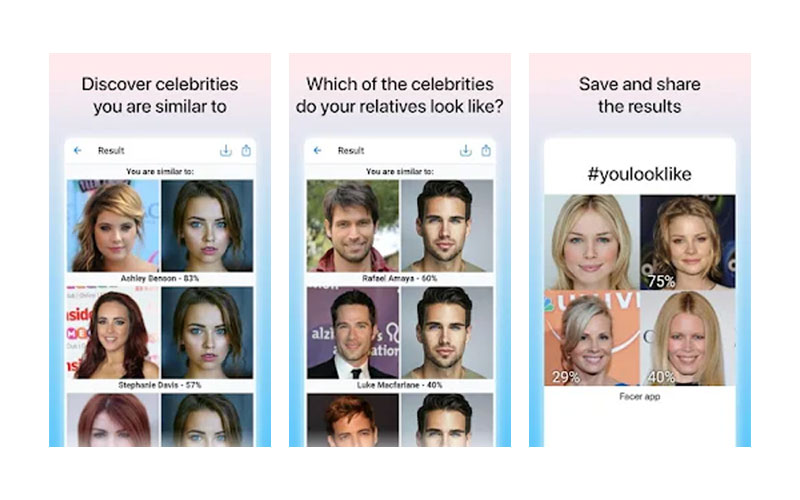 Top Features of the Facer App
It has a facial recognition system that is powered by artificial intelligence.
This software has the most cutting-edge face recognition technology and is regularly updated.
All Users Are Free to Use.
Images from the app can be shared.
Available On: iOS
9. Twinlets
Twinlets is an app that will compute just how similar you are to someone else while also giving you a professional assessment. It's among the top Android app for looking like celebrities.
Top Features of the Twinlets App
To use this app, there is no need to sign up or log in.
More than 150 million faces may be found in its solid database.
It automatically identifies your fake twin.
10. Doppel App
You are undoubtedly on the wrong side of the coin if you believe that having a twin brother is the only method to find a look-alike. If you use the Doppel app, you can see for yourself how easily you can find your doppelganger. When it finds a profile that matches yours, this well-known face-matching app notifies you about your twin.
Top Features of the Doppel App
You may also form and join groups, communicate, produce amusing films, and share the face gradient with your loved ones.
The resulting face morph films are smooth.
It can match with more than 300,000 pairs of doppelgängers.
Conclusion
If you are a startup or entrepreneur looking to create an app that determines what celebrity you resemble or locates the ideal celebrity look-alike app for you then Working with Scrum digital can simplify your job. A prominent provider of mobile applications and websites, Scrum Digital specializes in creating a wide range of apps and websites, including e-learning, healthcare, and eCommerce ones. For additional information about our services, please visit the above-mentioned link.