Mobile apps are making the world go round today with their usage reaching new heights every passing year. According to Statista, a whopping 218 billion apps were downloaded in 2020. After gaming eLearning, mobile apps are the second most searched and downloaded apps category.
The Pandemic created a conducive environment for this boom in the Global E-Learning market. The eLearning industry revolution has been torched by the upsurge in smartphones.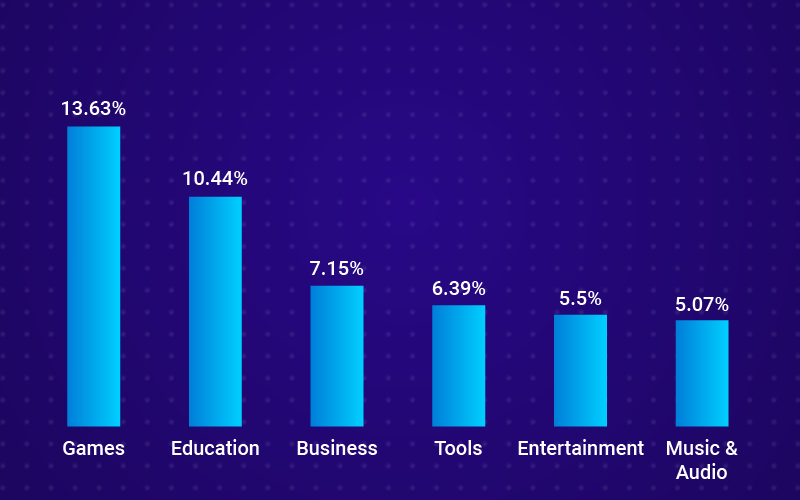 What are eLearning Mobile Apps?
An e-learning Mobile app is an interactive mobile application that allows learners to input their data and get expected results through interactions. These apps can be accessed by students from their smartphones.
Benefits of eLearning Mobile Apps
When it comes to m-learning apps, they are a natural extension of conventional learning methods, such as rote learning with textbooks. Applications that integrate photos, videos, and even 3-D content enables students to learn more effectively. These apps provide collaborative methods to engage students while making studies more interesting. Let us have a look at some of the other major e-learning mobile app benefits.
1. Flexible Learning
The whole app-based learning process is streamlined and convenient with access to content irrespective of location and time. With the availability of instructional resources in audio and visual forms on smartphones, learning flexibility has been higher. Moreover, students appreciate the added comfort of being able to access learning resources from anywhere at any time using their mobile devices.
2. Increase in Retention Rates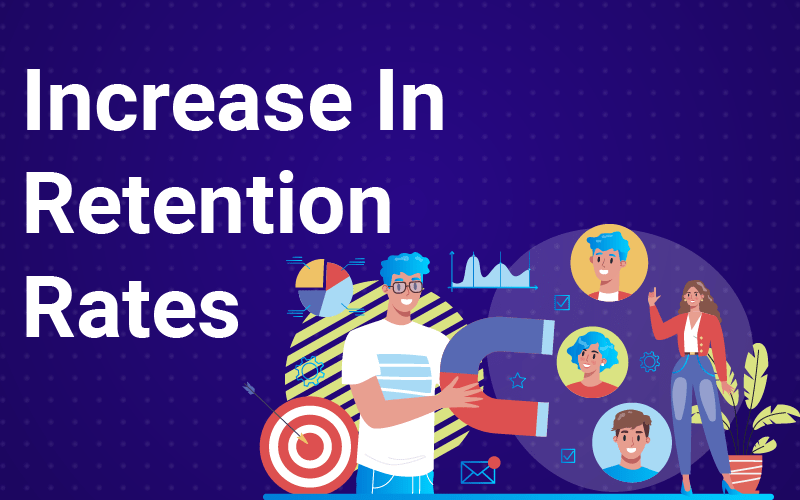 Effective learning can happen after studying the entire topic/ concept and remembering all necessary information. Since the information is simpler to understand because of the creative manoeuvres used, app-based learning nudges students to study systematically and allows them to fully engage in the course leading to higher retention.
3. Enhancing Performance
Students can access their eLearning courses across multiple devices, from PCs and laptops to tablets and smartphones, subject to availability. Students often enjoy teaching techniques that offer them quick access to knowledge and do not interrupt their daily routines. Consequently, leading to the development of a learning habit that improves performance.
4. Progress Report
Parents who like to keep track of their kid's progress can do so by checking the reports prepared by these e-learning apps, consisting of exam preparedness, understanding factor, and time spent studying.
5. Fosters Self-Reliance
The e-learning mobile apps enable an overall learning environment where students are not bound to wait for school's opening, books' availability, or teachers' presence. There is no need for teachers and coaches to be dependent on educational institutions for their income. They can create their own learning management systems with the help of e-learning app development and make them available to millions of students worldwide.
Features of e-learning Mobile App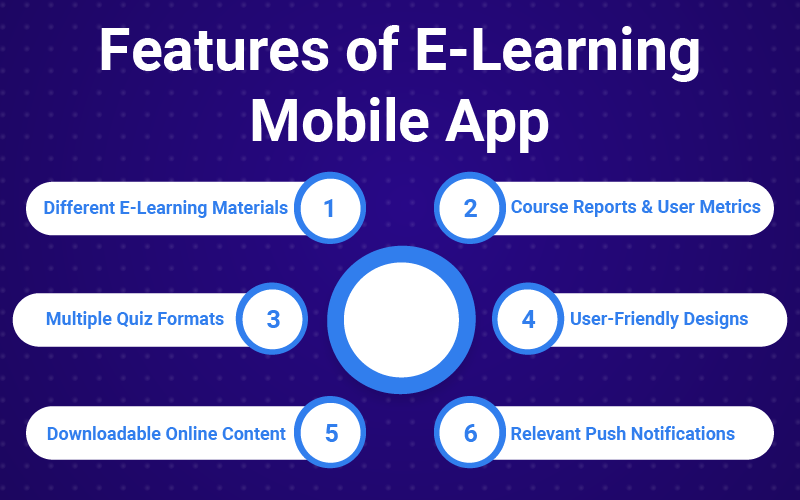 Here are a few must-have features that e-learning mobile apps must include for a hassle-free immersive learning experience for teachers and students. You can use this as a checklist while creating your own learning management system.
User-friendly and responsive designs.
Reminders, contextual nudges, and other relevant push notifications.
Different e-learning materials like visuals, videos, podcasts, etc.
Course Reports & User metrics.
Downloadable online content for future reviews.
Multiple quiz formats.
Platforms to raise queries and exchange information with other students & teachers.
Cost of developing an e-learning mobile app
The cost of e-learning app development depends on three different factors-
1. The Complexity of the App
The e-learning mobile app cost will highly depend on the kind of features you decide to opt for. The basic version of an e-learning app will cost you a minimum as compared to a high-end advanced version with added features and integrations.
2. Number of Platforms
An e-learning mobile app developed on a single iOS or Android platform will cost less in comparison to one built on multiple platforms.
3. App Development Location
The development cost per hour for an app differs from region to region, for example in the USA, the development cost per hour is $150-$250, while in Europe the cost ranges between $80-$180 while in India this cost ranges between $25-$50.
Popular e-learning Mobile Applications Platforms
With multiple e-learning platforms popping up in the market, it can become confusing to choose the right one. Here is our list of popular e-learning mobile application platforms that can come to your aid.
Coursera: With collaboration with reputed universities and large companies, Coursera has designed numerous courses on mobile applications to impart quality education on the subject.
Byju's: This platform is a great choice for beginners as the courses range from basics to advanced levels of application development.
Udemy: When self-paced learning is the top priority, Udemy is the right choice as an e-learning platform.
Edx: Learn the programming concepts with Edx while trying them out through different hands-on programming exercises.
UpGrad: It is one of the best examples of mobile learning apps that offer online courses designed to impart knowledge on programming and development along with degrees after the successful completion of exams.
Challenges in e-learning Mobile App Development
While developing an e-learning mobile app, there are some common hurdles that you need to overcome.
Study material development: The quality of education through m-learning apps depends on the study material. It is essential to provide documents and notes that students can utilize during their revisions.
Training the tutors: Tutors are the front face of any e-learning platform. Therefore, it is essential to develop training programs for tutors so that they can teach through online classes. Providing insights into their performance enables tutors to improve their online teaching skills.
Developing video content: Most e-learning education apps engage with the students through videos, Therefore, it is essential to ensure the quality of video content is maintained.
Server load balancing: You surely do not want any lags or interruptions while delivering the classes. To ensure hassle-free streaming, the m-learning apps must check the load balancing through their servers.
The Bottom Line
E-learning apps are revolutionizing education by creating a comprehensive learning environment where students can learn at their own pace. It provides the opportunity of imparting education to millions of students around the world. E-learning apps allow the flexibility for students to learn at any time, from any location. The global e-learning market is expected to be worth $325 billion by 2025. Therefore, m-learning apps are expected to become an alternative to the conventional schooling model.