Senior living communities have grown in number in the last few decades providing a quality life for senior citizens. In this age of digital competition, every Assisted living community requires digital marketing services to promote and grow their community. Adapting the latest digital marketing trends helps you to unveil the world of opportunities for your senior living community.
Let's look into the essential digital marketing trends that can help get better exposure for your senior living community.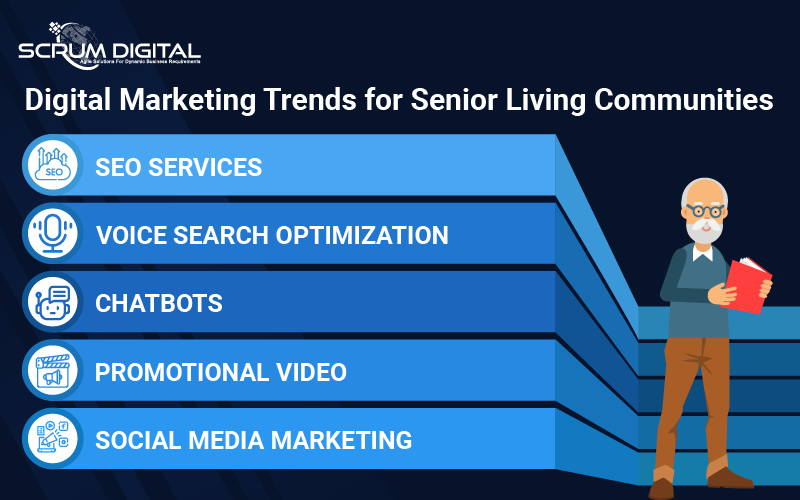 1. SEO Services
SEO has been an ever-evolving aspect of the digital marketing world. Building an online presence for the senior living community becomes easier with comprehensive SEO services from a digital marketing company that drives organic traffic and helps you reach out to people who are looking for a good senior living community.
Boosting the online visibility through search engine optimization of the existing content serves the purpose of promoting your senior living community. But if you are looking to take a step further, you can opt for local SEO to boost your verified Google listing visibility. This way your senior living community appears for "near me" searches driving interest parties to your website.
2. Voice Search Optimization
With Alexa, Siri, and Google voice search, people are eliminating the effort of typing while searching. Optimizing your senior living community for voice search helps you gain a competitive edge that helps enhance your visibility.
The Voice search feature has transformed the way people search. For instance, when typing one would probably type "senior living community near me" but during voice search one may say "where is the nearest senior living community with good reviews?". With similar questions increases the probability of ranking higher on the search list for voice searches of prospects.
3. Chatbots
Waiting time for response can lead to multiple missed opportunities. Chatbots is a digital trend that is here to stay owing to the benefits it provides for any business. Adapting a chatbot for your senior living community cut down the waiting time to respond to a query from an interested client.
With FAQs fitted into AI-powered Chatbot, it helps clients navigate, understand and make the action faster than ever. Your senior living community can save on customer service costs with a chatbot while improving customer experience with a faster answer to their queries.
4. Promotional Video
Video marketing is one of the digital trends that has fetched high ROI for businesses across the globe. Promoting your senior living community through video marketing can help you drive large traffic to your website cost-effectively.
Promotional videos also imprint the first impression of your senior living community in the viewers' minds. You can showcase your amenities, quality of life, medical facilities, and events through video. Moreover, adding a testimonial of your existing client in the promotional video can help you establish reliability in just a few seconds.
5. Social Media Marketing
More than 7 billion people are using social media platforms daily. The best way to get in touch with prospects is by appearing on their news feed when they surf their social media platforms. Facebook and Instagram are two social media platforms where the target audience of senior living communities is active.
Creating a social media calendar and posting relevant content regularly helps in improving the social presence of your senior living community. Today, most social media platforms have a "story" feature that works excellently in boosting visibility. You may step up your social media efforts by adapting social media messaging apps for prompt service or hiring experts who provide social media marketing services.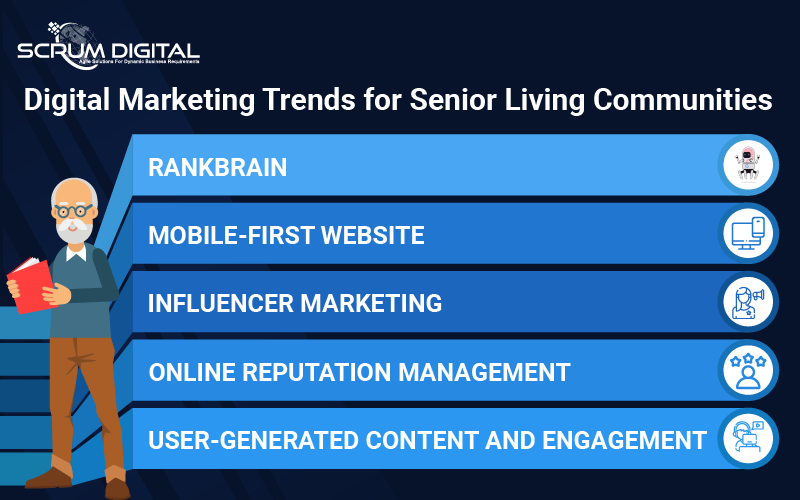 6. RankBrain
RankBrain represents Google's core algorithm that enables Google to evaluate the quality of content to present a quality response to people making relevant searches. While keyword stuffing had been working excellently earlier, this AI-enabled feature of Google has destroyed it.
Your senior living community has the chance to rank well on the search list if you have relevant and intentional content that adds value to the visitor by answering their queries.
RankBrain is a game-changer in digital marketing trends. If you want to rank well on Google searches, your senior living community website must have valuable content that satisfies the curiosity of a visitor.
7. Mobile-First Website
80% of internet users use mobile for searches, shopping, and surfing the internet. Therefore, to drive organic traffic to your senior living community website, it is essential the UX/UI and content must be compatible with smartphones.
Less-heavy text, touch-friendly navigation, and collapsible menus are some components of web designs for building mobile-first websites. Moreover, such websites are less expensive than building a website and an app side-by-side.
8. Influencer Marketing
Influencers refer to the people who have a huge following who trust them. With the increasing dependence on social media, people have innovated the popularity of social media for influencing people. Some influencers build loyalty and trust among their audience adding value to their lives in some way.
Influencer marketing involves collaboration with the influencer to promote your senior living community. You may invite an influencer to an event or for a day tour of your senior living community. It provides exposure, brand awareness, and enhanced online visibility driving potential clients to grow your community.
9. Online Reputation Management
Whenever people require assurance for any product or service, the first thing they do is to search for online reviews and go through the social media pages. Online reputation has become an integral aspect of a business's success.
Online reputation management services involve managing online reviews, especially negative reviews. A single negative review can overthrow 100 positive reviews. Not responding to negative reviews can end up making it worse. ORM ensures management of online reviews as well as engagement on social media to build goodwill for your senior living community.
10. User-Generated Content and Engagement
Customer engagement and content generated by users have become the most effective digital trend that can nurture and improve the online presence of a brand. User-Generated Content refers to the social media post in form of text, video, or photo tagging your brand. People are inclined to trust users more than a brand. When people are talking about your senior living community, it helps in spreading word-of-mouth that can bring in lots of quality leads.
The Bottom Line
Digital marketing trends play a significant role in enhancing the visibility of senior living communities. While there's a lot on the plate, your senior living community cut down the efforts by availing quality services from reliable digital marketing and PPC management company. Scrum Digital is a leading digital transformative service provider that has a proven track record of helping senior living communities to grow. If you are interested in comprehensive digital marketing services, you can get in touch with the Scrum Digital team.