Online shopping is really convenient and has become an indispensable part of the global retail framework. With eCommerce companies on the rise, eCommerce sales nearly accounted for 20% of total sales worldwide, amounting to 4.9 trillion U.S Dollars and the number is forecasted to reach 7.4 trillion dollars by 2025. This sums up the fact that the upward trajectory of the eCommerce industry is likely to continue.
This e-commerce wave has presented businesses worldwide with an excellent opportunity to grow and revamp traditional ways of doing business. A well-developed eCommerce website is absolutely important and a common investment option for business owners, commercial enterprises, retailers, and entrepreneurs to consider. With so many options available in the market, it becomes difficult and confusing to know where to start. In this blog, we will get an overview of eCommerce website development and what it offers your business.
What is eCommerce Development?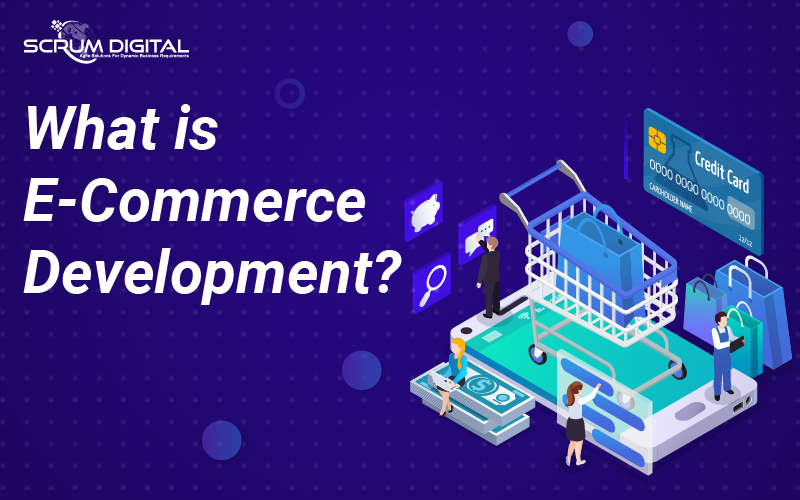 eCommerce website development refers to the technical process of building a backend and front end of your eCommerce website. This includes all the elements of an online store: product pages, shopping carts, payment gateways, order forms, and support pages.
Why is eCommerce Website Development Important?
Having a well-developed eCommerce website can open up many opportunities for your business to grow. A good eCommerce development company helps you create a professional image for your business and helps you stand out. Furthermore, it facilitates an increase in sales and revenue.
Here are a few reasons why eCommerce Website Development is important for your business.
1. Creates a First Good Impression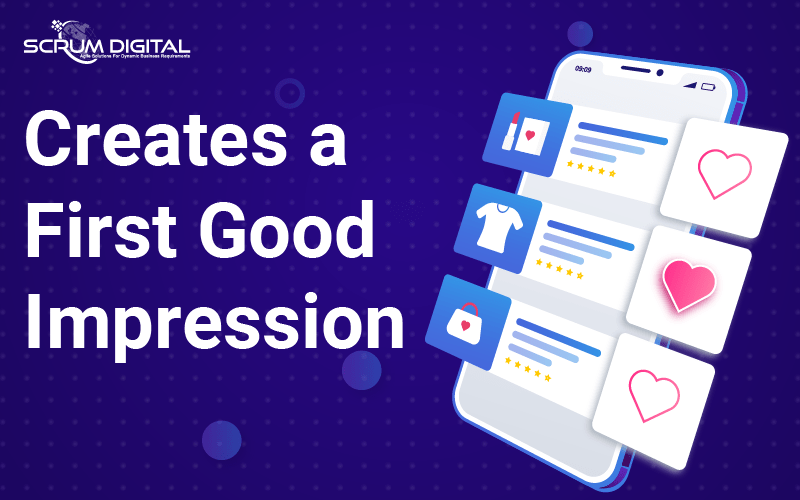 Your customers make snap judgments! Since your website is the first point of contact with your customer. A good initial impression sets the tone for the whole user experience for the customer and determines whether they will stay or leave the website.
2. Helps with a User-Centered Experience
A good user experience is instrumental to the whole customer journey and ensures your customers enjoy and find it easier to browse through your website which in turn drives sales. Good web development services see to it that your eCommerce website runs seamlessly so users can have an impeccable user experience.
3. Creates Opportunities to Scale your Business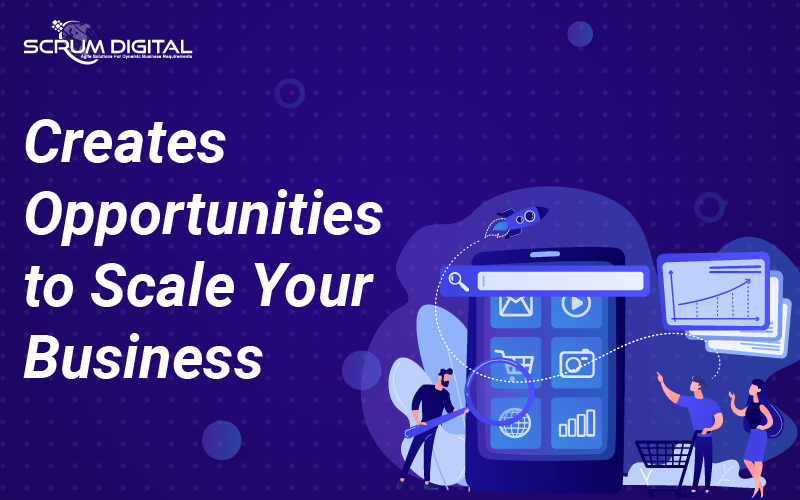 Your eCommerce website metrics can help you assess consumer behaviors, requirements, demands & purchase patterns. This allows you to better serve your customer and keep up with their demands & requirements and improve your chances of growing your sales.
4. It Supports your SEO Strategy
Search Engine Optimization helps with your products & services branding and eventually your conversion rates because it helps with higher site rankings on search engines. Various website elements like search links, page speed, URLs and hyperlinks do have a huge impact on how your eCommerce website will be ranked on the search engine.
Types of eCommerce Development Website
Before listing down the eCommerce development process let's understand the different types of eCommerce websites and define the most suitable for your business model and needs.
1. B2C Online Stores
Business to Consumer online stores are the most common type of eCommerce website and are widely popular. Here establish businesses and enterprises sell their goods and services to consumers. These eCommerce websites can be in many forms and sell a variety of things in different categories like tech, beauty, clothing, home goods and much more, but the target market is always the individual consumers.
2. B2B eCommerce Platforms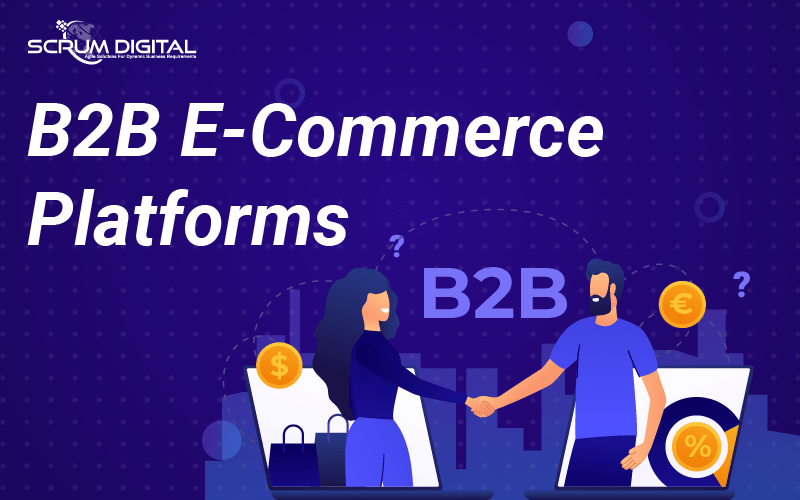 In Business to Business eCommerce websites sales of goods and services usually takes place between two businesses. These B2 B transactions can be services rendered or goods sold in huge quantities to other businesses who may sell them to the consumers. eCommerce websites help businesses promote their goods/services to other businesses while increasing their reach nationally and internationally.
3. C2C eCommerce Stores
Consumer-to-consumer eCommerce stores are typically online marketplaces like Etsy, Facebook or eBay where individuals and small retailers sell their products to final consumers.
What does eCommerce Website Development Involve?
The eCommerce development process involves a number of steps depending upon the scope of your project-
1. Creating a User-Friendly eCommerce Website Design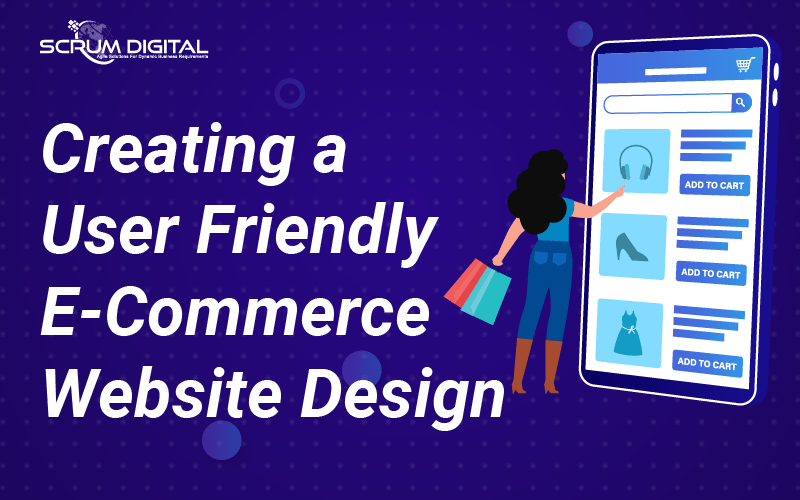 Once deciding upon an eCommerce website solution, the next step is creating a professional, user-friendly design that's easy to use and navigate through. A good eCommerce development company can help you create a responsive mobile friendly website design with content that is scalable and has ease of access.
2. Create the Best Shopping Experience
With increasing competition among eCommerce websites, businesses have to create the best shopping experience to win potential customers and avoid losing current buyers.
There are many things an eCommerce development company can do to create an efficient website and a seamless user experience.
Here are some of the important elements to add to your website for a good UX-
The loading speed of the website
Advance search and product filtering feature
Displaying details about the products
Easy registration and checkout process
Secure and multiple payment options integrated
Securing customer information with SSL certificate encryption
FAQ page with clear return and exchange policy
3. Choosing the Best eCommerce Website Solution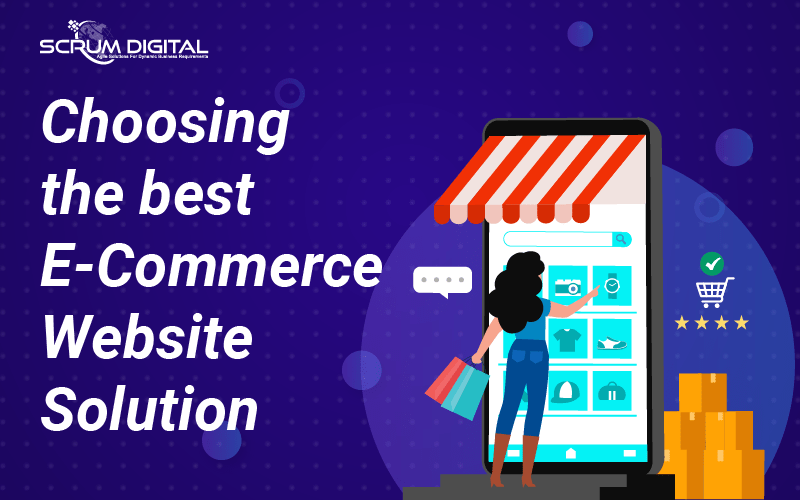 The first step involves the best eCommerce website solution that is best suited for your business model. The best website solutions will help you transform your website into a fully functional eCommerce store with the necessary integrations and features that you need.
4. Testing and Launch of your eCommerce Website
The next and crucial phase of your eCommerce development process is the testing and launch phase. This involves testing all the features and elements on the website. Here is a checklist to ensure you have a smooth and professional eCommerce website up and running.
The navigation experience
The checkout process
Security of database & monetary transactions
The functionality of product tracking coupon codes
Integration of custom features and extensions
Once you have tested and are satisfied with everything on your eCommerce website you can initiate the launch phase and make your online eCommerce platform accessible to all the customers.
The journey of a successful eCommerce website development starts with defining your end business goals and creating a strategic plan around them. Selecting the right eCommerce development company is very crucial to a successful website. If you are looking to start your own eCommerce platform and increase your sales and revenue. Check out the custom eCommerce development solutions from ScrumDigital or contact with our team to start a discussion.