Tech innovation has become the driving force of all the industries across the globe. The world of web development is evolving every passing day. It has become essential for businesses to keep up with the pace of changing website development trends to achieve success in this digital era. Scrum Digital has played a significant role to provide digital transformation services for businesses desiring to thrive amidst the competitive ever-evolving marketing.
While numerous trends are invading the tech market, here is a list of web development trends that promises a huge scope in 2022. Let's look into the trends to help you assess which trend can become your USP to business success.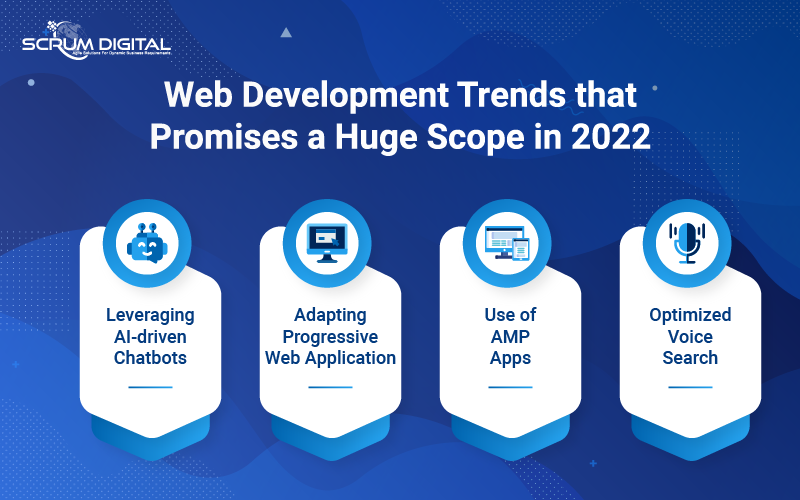 1. Leveraging AI-driven Chatbots to Boost Conversion and UX
Most businesses in 2022 and beyond are expected to adopt chatbots to make their business operations seamless and improve user experience. AI-enabled chatbots serve as the virtual assistant to the site visitor enhancing customer engagement as well as collecting analytical data for the business.
Natural language processing coupled with machine learning principles makes AI chatbots the most convenient source to get information in just a few seconds. Scrum Digital is a reliable chatbot development company that has helped businesses from various sectors like education, healthcare, finance, etc. to develop AI-enabled chatbots for boosting customer engagement rate and thereby generating more revenue.
2. Adapting Progressive Web Application to enhance mobile user experience
Progressive Web Application (PWA) is one of the most popular web development trends that is expected to boom in 2022. According to Ericsson's research mobile data traffic is expected to grow four folds by 2027. Businesses that adopt PWA in 2022 can gain a competitive edge, especially for customer retention.
PWA technology enables website content to adapt to the smartphone UI/UX layout enhancing the mobile user experience. It also plays a role in speeding up app launch, saving power and storage space, and most importantly ensuring smooth updating.
Scrum Digital has years of experience in providing web application development services in Colorado, USA & India. Utilizing PWA technology, we have developed websites that fit perfectly in a smartphone enabling businesses to exhibit their content on mobile devices without overloading. This digital adaptation has been rendering significant profits to every business that has and will adopt this game-changing technology.
3. Use of AMP apps For Quick Video Content Loading
Pioneered by Google in 2015, AMP or Accelerated mobile page has been trending in the website development industry. Similar to PWA, AMP offers a mobile-first approach for businesses. It focuses on decreasing bounce rates by providing an improved user experience on mobile devices. AMP apps have mobile-optimized pages with simplified web design accelerating page functionality to retain users.
AMP serves as an excellent alternative to PWA when it comes to video and animation content. As a leading mobile application development company in the USA, Scrum Digital often suggests small businesses invest in AMP plug-in instead of native app development. This choice not only helps them save expenses but also makes them eligible to compete with big players in their industry.
Also Read: How to Develop a Web Application?
4. Optimized Voice search for Swift Navigation
The popularity of Google Assistant Siri, and Amazon's Alexa is evidence that users are preferring voice search to typing. Indeed, voice search has become the go-to assistant for fast searches and access to information on the go. Most businesses are on the verge of adopting voice control to reduce processes.
While businesses are striving to adopt voice search features, they are also looking ahead to integrate Voice search SEO strategy to appear on voice searches. Voice recognition, speech synthesis, and recognition are on the line to evolve in the coming years. As a leading application development company, Scrum Digital encourages the use of Web Speech API to enable businesses to stay ahead of the competition.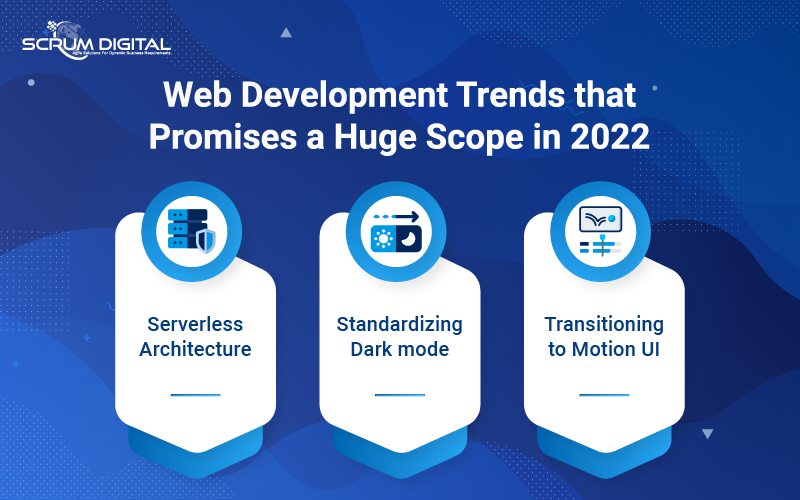 5. Serverless Architecture to Prevent data loss and Overload
More than 70% of businesses across the globe are shifting towards cloud technology. As 2020 saw the work culture shift to work-from-home, the use of serverless architecture running on cloud technology has maximized. Therefore, it is undeniable that serverless architecture is going to trend in 2022.
From the point of view of affordability and scalability, serverless architecture is a must-adapt technology if a business desires sustainability. It also reduces time-to-market and developmental costs. With more and more businesses adapting to this web development trend, the market of serverless architecture is expected to grow up to $21.1 billion by 2025.
Also Read: How AI Assistants can Bring Value to Your Business
6. Standardizing Dark mode for better comfort
According to a Survey by Polar, 89.4% of global users preferred dark mode to light mode irrespective of device type. Dark mode relieves the user from eye strain due to blue light even in low light conditions.
Popular apps such as Facebook and Twitter have already adapted dark UI features to make the customer experience more enjoyable. Other businesses are also adapting built-in features that allow users to choose between light mode and dark mode at their convenience. It is expected that most businesses will make this feature a mandatory requirement in 2022 and beyond.
7. Transitioning to Motion UI for Capturing Attention
Creativity and innovation are what make web designs stand out. Today's consumers are expecting more than just good web designs. Visual designs are often considered a marketing strategy as they provide a digital experience that intrigues users to interact. This is the core reason behind the popularity of Motion UI.
Using predefined motions in a responsive app such as slide, bounce, spin or any movement grabs the eyeballs of the visitors. Motion UI marks as one of the web development trends in 2022 that is expected to transform the digital experience of users impacting the revenue significantly.
Also Read: How AI Assistants can Bring Value to Your Business
The Bottom Line
Businesses across the globe have to advance themselves with these web development trends to thrive in 2022 and beyond. The above-mentioned web development trends are user-centric and that is the key to success for all businesses. While enhancing user experience is the focus, these technologies also help in streamlining business operations and gaining a competitive edge for the business.
Accomplishing your business purpose utilizing these technologies requires seamless execution. That is only possible if you can choose a reputable web development company. Scrum Digital is the ideal web and application development company in Colorado that understands your business requirements and uses innovative technologies to overcome any challenges that may come up in your business.