Senior living homes are no exception when it comes to using social media as a marketing tool. According to studies, older folks are becoming increasingly active on social media. Your target market is already online; all you need is a technique to reach out to them. Here are some things to keep in mind while designing your social media strategy, whether you're wanting to boost your online presence or start from scratch!
A critical mass of seniors is now online. To stay competitive in this new environment, your community needs to prioritize digital marketing. Social media services for senior living communities in particular, can have a tremendous impact on your community's membership. Here are a few pointers to help you get the most out of your social media marketing efforts.
Social Media Marketing's Advantages for Senior Living Communities
You've probably heard that social media marketing may help you reach out to your target audience, create leads, and eventually increase community occupancy. But there are a few additional advantages to using social media to promote your senior living community:
1. Walk Ahead with Your Competition
Senior communities are increasingly going online. Having a social media presence will help to legitimize your company and demonstrate that you keep up with industry trends.
2. Keep Up with Family Members
Families want to know that their loved ones are secure, happy, and enjoying life to the fullest. Sharing images and videos of residents on social media (with their consent) can help to create a sense of security and boost customer satisfaction. ‍
3. Share a Pleasant Resident Experience with Prospects
It doesn't simply make families happy. Prospects will be captivated by photos and videos of residents in your community having fun. Giving them a taste of what life is like in your neighborhood will help them see themselves living there.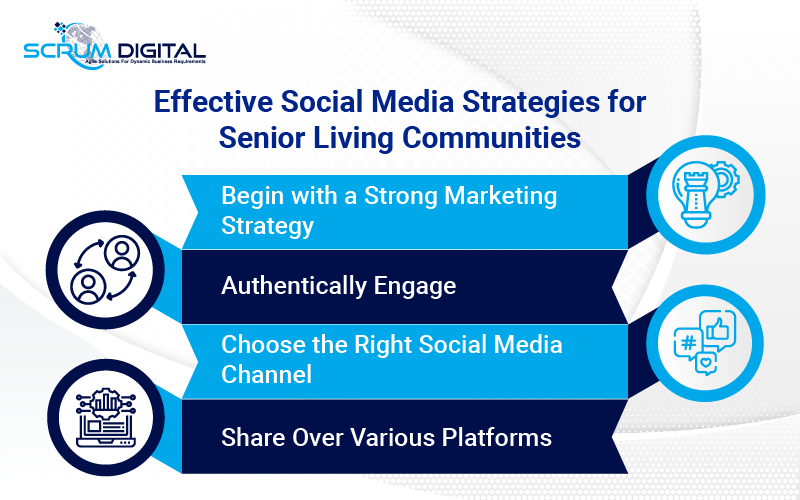 1. Begin with a Strong Marketing Strategy
Social media marketing can appear intimidating at first, given the recent rush of platforms and users. Don't be concerned! With a little forethought, you can create a marketing plan that eliminates the guesswork of what to promote and when each month.
Before you start posting content, just as with traditional marketing methods, you'll want to spend some time getting to know your target demographic. Investing the time to research your preferred candidate now will save you a lot of time and money afterwards. The social media marketing services in the market focus on the demographics before they come up with any strategy. Do you have resident marketing avatars in your community? To round out the image, you may add a couple of data points about their digital behaviors.
It's critical that you start posting right away.
It's crucial to check in with yourself as you start blogging and change your plan as needed. Certain platforms, such as Instagram, provide access to useful metrics that allow you to see how consumers interact with your marketing content. The following are some engagement characteristics to consider:
How many people noticed this post for the first time?
How many people visited this page to learn more?
How many of these clicks resulted in actual interaction with a representative from the community?
2. Authentically Engage
We understand that selecting a senior living community can be a difficult decision. As a result, prospects and their families must feel confident in your neighborhood right from the start. It is critical, however, that your senior living community communicates authentically on social media. Tell it like it is! Consider featuring a new resident each month to give your page a "behind-the-scenes" atmosphere.
To stand out while maintaining a consistent image, you'll want to mix a sense of spontaneity with themes (determined colors, typefaces, etc.). Digital marketing company take advantage of current social media trends while giving your community its own distinct flavor.
3. Choose the Right Social Media Channel
Determine which platforms will assist you to reach your target audience as the first stage in developing your social media strategy. Data can be used to determine which platforms they prefer. According to Pew Research, 50 percent of Americans aged 65 and up use Facebook, while 49 percent use YouTube. These two platforms are the most popular among seniors and the most widely utilized in general, so they're a terrific place to start.
We've also seen our client communities make amazing use of Instagram and TikTok. Both of these networks are associated with a younger user demographic, though Instagram is used by 48 percent of those aged 30-49. It's important to remember that adult children frequently play a major part in assisting their loved ones in selecting a community, so it's crucial to keep this in mind.
You should also think about how each platform is best utilized. Facebook can act as a hub for all things relevant to your business, similar to how your community's website does. Instagram is an image-based platform, so it's ideal for showcasing your community's offers through images and videos. YouTube is an excellent area to test video marketing because older individuals appreciate it. In video format, customer testimonies are especially effective.
To begin, the team offering seo services chooses two or three channels. It's preferable to master a few channels than to overburden oneself!
There is certainly a place for everyone in today's social media environment, with so many alternatives. Different platforms appeal to different types of users, each with its own set of hobbies and financial goals. When determining where to post what content, you'll want to keep this in mind.
For example, a growing number of digitally engaged Baby Boomers prefer Facebook to other social media platforms. As a result, concentrating your ad investment here may make sense. Facebook works well for a variety of posts, including text, graphics, and videos. However, it is still a smart idea to spread your community's activity across a few different platforms. Content from Twitter, Instagram, and even Pinterest can be linked and cross-posted.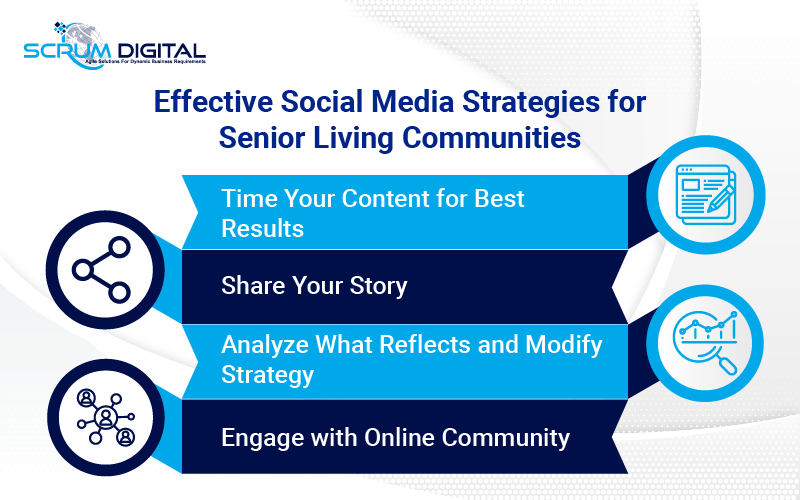 5. Time Your Content for Best Results
You should conduct some research as part of your social media marketing strategy to determine when your target audience is most likely to connect meaningfully with your community. You won't have to worry about posting during normal business hours because potential inhabitants may be retired. This time of day may be advantageous to you because reps are more likely to be available to answer queries and convert leads at this time of day.
Consider planning out a couple of weeks' worth of posts at a time when it comes to posting. Although it may appear difficult, front-loading content development can save you a lot of time and improve the quality of your material in the long run.
It's time to share high-quality material with your target audience after you've discovered the best ways to contact them. However, deciding what to post might be difficult.
On social media, you'll want to keep hard sales to a minimum. Follow the 80/20 rule: 80% of your content should be educational or amusing, while 20% should promote your community directly. Showcase your seniors who are taking part in programs, outings, and events, and let their enthusiasm speak for itself.
Highlight the fantastic people who live in your neighborhood to really show off what makes it special. Allow your most satisfied employees and residents to relate their tales because they are your finest brand ambassadors. Sharing success stories, of course, begins with providing an excellent resident experience. Once that's done, you'll have the opportunity to create valuable material every day!
If you're still stumped for ideas, go to your competitors for inspiration. Look up their social media outlets on the internet and observe which ones perform best for them.
7. Analyze What Reflects and Modify Strategy
For businesses, social media networks provide a variety of analysis tools. These tools will assist you in learning more about your followers and tracking your channel's progress. The analytics page for each platform is slightly different. There are online guidelines that can help you navigate this portion of your chosen platform.
Most social media networks will display data about your following, such as their most active times and days, so you can fine-tune your upload schedule. You may also view when individuals followed (or unfollowed) you to see if it was because of a post you made on that particular day. This will assist you in determining the effectiveness of your shared content.
When it comes to channel growth, it's easy to get caught up in the numbers.
8. Engage with Online Community
Social media is, at its core, about making connections with others. While it's critical to concentrate on sharing high-quality material, there are numerous advantages to participating in the online community.
Interacting with others on social media channels for your business broadens your reach and raises brand awareness. People are more likely to find your channels through comments, likes, and shares if you're active in the online community.
Participating in activities with others might also assist you in forming positive relationships with community partners. Giving volunteers and funders a social media shoutout goes a long way toward making them feel valued. It ensures that the partnership benefits both parties because they receive free publicity in exchange for their efforts. This may encourage them to collaborate with you.
This may encourage them to collaborate with your community in the future, as well as attract new partners.
Businesses, of course, utilize social media to communicate with their customers. Even simple things like nice comments and replying to queries can go a long way toward delighting existing and potential customers. Plan time for participation in your social media routine to ensure you don't skip this crucial phase!
Final Takeaway!
On numerous levels, senior living communities can build a big online following. The examples above are only a few of the many ways new leads can find you online, and residents' relatives will appreciate your content.
Are you considering social media marketing for your company? Get in touch with our online reputation management services right away! Your company's brand awareness and internet exposure will improve as a result of our expertise.21