Most digital marketers look forward to lead generation only. It is here the majority of marketing budgets are spent. It can be difficult to attract more residents to your assisted living, retirement, or memory care complex. While seniors have a lot of options, it's your job to make sure you do everything you can to stand out as the best option.
Getting the most from the traffic you get, on the other hand, is a smarter (and more effective) marketing plan. 
First and foremost, traffic will never necessitate large ongoing expenses (unlike building traffic). On-site techniques are usually free or significantly less expensive than attempting to generate fresh clicks from the outside, our Seo Services for senior living communities can strategically build something that is strong and reputation building. All the investment it needs is a little time.
Second, investing in lead generation and nurturing allows you to have a better understanding of your target demographic and collect your own data, both of which will benefit your marketing approach in the long run.
To grow their reach and build trust in the business, every company requires a strong online presence.
But your online presence's potential doesn't end there. You can guide visitors to become paying clients in addition to informing them about your company. This can be accomplished by utilizing a variety of digital marketing strategies to raise conversion rates and income.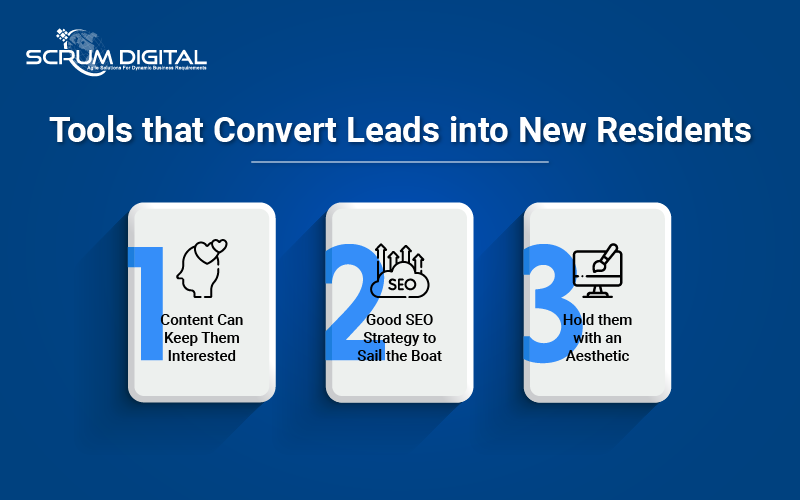 Tools that Convert Leads into New Residents
1. Content Can Keep Them Interested
Adding high-quality content to your website improves your chances of generating more leads for your company. Work on product demos, write catchy website copy, and develop useful content such as blogs, ebooks, and white papers.
When you provide qualified content, you earn your clients' trust and foster a healthy connection with them. Their trust and relationship can help your company earn money in the long run. So, instruct your team of digital marketing for assisted living to create material that is both interesting and converts.
Bringing someone to your website is easy, but keeping them busy with your content is the key. If they are convinced with what they consume your lead would surely be your new customer!
Also Read: Weak SEO Strategy? Here's how to stop losing new Resident Leads!
2. Good SEO Strategy to Sail the Boat
Google visibility can generate more leads for your company than you would imagine. As a result, it is critical to focus your efforts on improving your SEO methods in order to improve your Google rating.
The page title, page URL, page header, internal links, and page content are the five major SEO factors to pay attention to. Refer to Google updates to learn how to successfully use SEO to rank high in search engines.
3. Hold Them with an Aesthetic 
The first and most important factor that determines the usability and success of your website is the design of your landing page. Building landing pages with a strong strategy will help you convert more leads.
Add graphics, videos, and call-to-action buttons to your landing pages strategically to make them more enticing and convert more visitors. Additionally, ensure that all of your landing page links are clickable and aid in the generation of leads, either directly or indirectly. You may also improve the user interface of your site by using pre-designed landing page templates.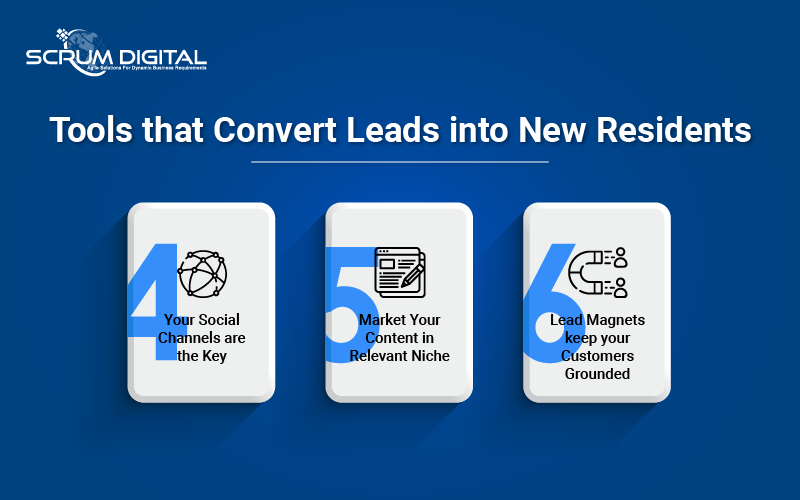 4. Your Social Channels Are the Key
People today are heavily involved in social media sites such as Facebook, Twitter, Instagram, LinkedIn, and a slew of others. They consume more content on this platform than on other platforms. Let your social media be good to you. Here you can promote your company's services and attract the attention of your target audience.
Using LinkedIn as a marketing medium, a company generates 80% of B2B leads. As a result, social media is an easy way to raise global knowledge of your brand's products and increase client involvement.
Online reputation management services can help you build a brand identity over social media that your target audience would be attracted to. 
5. Market Your Content in Relevant Niche 
Email marketing is a tried-and-true inbound and outbound marketing strategy that continues to produce prospects. To nurture your target audience on a regular basis, you can create numerous email templates and send them to them on various occasions, such as festivals or birthdays.
This simple marketing tool aids in the development of strong relationships with your target audience and keeps them up to date on your products and services. Additionally, emails have been shown to generate more leads for a company than most other marketing methods.
6. Lead Magnets Keep Your Customers Grounded 
Lead magnets are another fantastic approach to making high-quality leads.
A lead magnet is a free service that marketers give away to visitors and potential customers in exchange for their contact information, such as their email address. E-books, films, coupons, and other forms of lead magnets are all possible.
You'll need to establish an email list if you want to be effective in capturing high-quality leads. A lead magnet is necessary for effectively growing an email list. The key is to create a lead magnet that can do the following:
Demonstrate your one-of-a-kind selling offer by demonstrating the following: When your audience receives access to your lead magnet, they should be persuaded to buy from you instead of your competition. Run successful campaigns with PPC management services and get an in-depth understanding of what is working for you and what isn't. 
Be seen as really valuable: It should provide additional value to your readers beyond what the competition provides. Don't bother with videos; they're all over the place. Instead, give out an e-book or a set of coupons.
Provide an answer to a question: Your target audiences are constantly searching for solutions on the internet. You'll get an email list in no time if your lead magnet meets their needs.
The benefit of using lead magnets is that leader's email address on your list becomes a prospective lead. Simply said, a lead that is subscribed to your email list is willing and ready to convert.
With a Reliable Solution, We Reach Here!
Our digital marketing company can help make your community's website the one they come to with the use of our search engine optimization (SEO) marketing services! People of all ages are utilizing the internet to investigate, buy, and speak about everything in their lives in today's world.
From ensuring that your website is found to keeping your social media up to date so current residents can stay informed, SEO is a critical marketing practice that gives your community or service a competitive advantage.
As organizations continue to move away from conventional, fading approaches, investing in search engine optimization for your senior care facility can be the make-or-break way to gain new business.