It's Relevance and Requirement in today's Scenerio
In the world of social media, brand perceptions are made by the voice of your customers. Even if your products or services are of good quality and value for money, but if you are not able to match your customer's expectations you cannot build a brand. Matching your customer's expectation is just one part of it, this also depends on how quickly you respond to their concerns, how well do you take criticism, and how you respond to negative feedback. Online Reputation Management (ORM) helps you achieve your brand goals and improve perception.
ORM is required for every size and every type of business. No matter how small or big you are, whether you are selling goods or services online or own a bakery shop or a professional, managing your online reputation is a must!
Online Reputation Management (ORM) is a continuous process of monitoring and building your brand identity. ORM is a combined effort of SEO, Digital Marketing, and Public Relation to promote and defend your brand identity over the internet. ORM includes managing your reputation by responding to your customer's comments and mentions on time and accurately to create a positive brand perception.
Read about how Scrum Digital can help you achieve a positive reputation here or read more about our Digital Marketing services.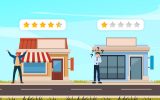 Why Online Reputation Management is necessary and is it for you?
Yes, it is a must for everyone. In a survey, 90% of the participant said that they would change their buying decision after reading a couple of negative reviews. Customers expect at least a 4-star rating to consider it. Also, over 80% of the buying decisions are made by an online search today. Let's deep dive into it.
Let's say you own a coffee shop, and your coffee is the best in town. But your customers often write feedback about no space to sit and use their laptops while they have their coffee and leaving you a 2-star review. As a business owner, you know your coffee is best and you are selling coffee and not a place to work (assuming), thus ignoring these comments. But these comments weigh in on your overall brand perception. When any new customer will search for a coffee shop and they read negative comments, it affects their decision. Gradually you may end up getting lesser customers.
What values will Online Reputation Management will bring to my Business?
Growth, Higher Revenue, and Higher Brand Value. Think from a customer's point of view, if you are shopping for new furniture or some gadget and you get two offers and the price difference from both the sellers is a couple of bucks. Now, one of the sellers has excellent comments, and another one who is selling it cheaper has a series of negative comments. Which one will you choose? I will go for the first one and I guess so do you. Money is not the only factor here, people prefer peace of mind and quality over money most of the time.
As a result, the online reputation of your business will impact your revenue, growth, and perception.
What are the key elements to manage reputation?
There are four basic element to start and manage your online presence.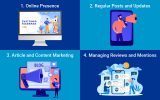 1. Online Presence
Foremost and the basic element for ORM is creating your business's online presence. That means your website, social pages, and blogs. Creating online is the foundation step for your business to take to new heights. Websites have transformed over the period of time, they are no more a basic brochure but an identity and a source of interaction with your users. Your website should be integrated with all of our social accounts and must drive content from it.
2. Regular Posts and Updates
Once you have created an online presence, you will also need to maintain it and keep your audience engaged. The more activities you do, the more interest you generate. Your visitors also love to hear updates about your business, such as new launches, offers, celebrations, etc. These activities boost your brand awareness and engagement with potential clients. Again, this is important for every business.
Another important aspect is to share is what your clients think about your product or services. Promote positive reviews and experiences with all. This boosts the confidence in your prospects and simplifies the buying journey. Your potential customer will already be influenced by your brand.
Transparency is the key here, the more your business is transparent to your customers, the more they will love it. If you made a mistake, accepting and apologizing upfront doesn't hurt. Transparency means open to feedback, communication, not hiding criticism. Transparency may be a risk, but not being transparent is even riskier in long run.
3. Articles and Content Marketing
Articles and content marketing is similar to the social media post and is equally important. The more content you create and share drive more visitors and resulting in higher traffic. The articles and content you publish and share with your users play an important role in your brand-building exercise and they create higher engagement, drives more traffic, influence your potential buyers, and build trust.
The content you post should be keyword rich and should target the right keywords, which are relevant to your business. These articles should not be posted just to complete the activity and create volume but should be quality content and relevant.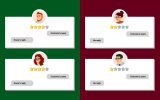 4. Managing Reviews and Mentions
The most important factor in managing your online reputation is to manage reviews and your brand mentions in a timely and proper manner. Now it may sound very easy, but this is the trickiest part of the four.
You will need to continuously monitor reviews and mentions of your brand and respond to them at the earliest possible. There are a few important factors to manage these reviews or mentions.
– Timeliness
Your users expect you to respond to their comments or reviews quickly, like right now. Especially the negative ones. Implementing a notification for a new review or mention will help you here. It is not ideal to respond to any of your reviews after a few days, as it displays the importance of your customer's voice to you.
– Dealing with Negative Reviews
Must deal with negative reviews at the earliest and in the proper manner. Start your responses such as "We understand your concern", "We are sorry, we could not meet your expectation", etc. Address your customer's concern properly and provide assurance.
Do not shy away from a negative review and deal with it publically. Your efforts to solve your customer's concern brings confidence in your brand. This is also critical to learn from your mistakes and improve your service quality.
– Responding to positive reviews
Respond and show gratitude for sharing a positive review, such as "Thank you for sharing feedback with us. We are happy that you had a great experience with us". This shows that you are thankful to your customers and value their opinion.
– Apologize (not always though)
Apologize for a mistake you made, but not if it opens you up for a lawsuit. We would recommend you consult with your legal attorney in such cases, but you may still want to show empathy and respond to customers in a proper manner.
– Encourage for reviews
Reviews can not be deleted or tampered with, doing this creates more problems than solving them. A better way to cover a negative comment is to get more positive reviews. So that it outweighs the negative sentiments.
You should encourage your customers to share their experiences with you. This can be achieved in a lot of ways, such as sharing a review link with them, creating pop-ups on your website, sending emails, etc.
What tools I can use to help me?
There are a vast number of tools available to help you monitor reviews and mentions, we will include a few for your reference here. Which you may find useful in several scenarios.
How Scrum Digital can help you build a Positive Online Reputation
We have an experienced team and the right tools to create and manage your online presence and manage your Online Reputation. We have a capable team of developers, designers, and digital marketers who can work in tandem for your success. Our team continuously monitor all the social media channels for any mentions or comments which can lead to negative reputation and work towards getting it fixed.
Therefore, Our team is available round the clock to address your customer's concern as quickly as possible and makes sure that it gets resolved to the customer's satisfaction.
Talk to us today for quality SEO, Digital Marketing, and Online Reputation Management solutions tailored to your business requirements.